March 25, 2022
Celebrating the Promotion of Eastridge's Cassie Galiskis, Evan Levine, and Ariana Lujan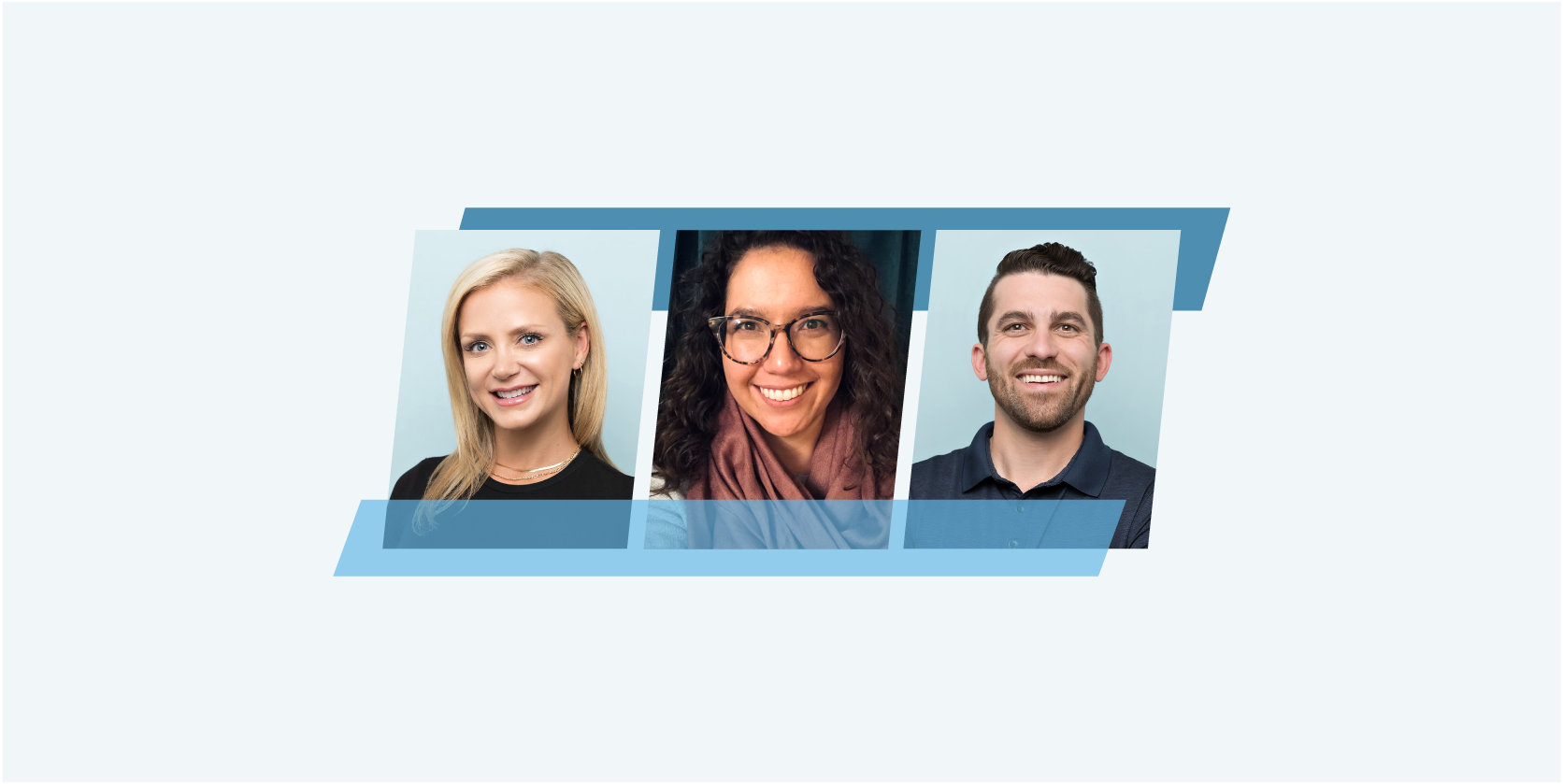 Eastridge is proud to announce the promotions of three of our valued employee-owners: Cassie Galiskis, Evan Levine, and Ariana Lujan. Cassie Galiskis has been promoted to Vice President of Professional Services; Evan Levine has been promoted to Assistant Vice President of National Services; Ariana Lujan has been promoted to Vice President of Payrolling Services.
The entire team at Eastridge is grateful for Cassie, Evan, and Ariana's countless contributions to the organization over their collective 21 years of service to their clients, candidates, associates, and partners. Please join us in congratulating them and celebrating Eastridge's ongoing commitment to providing opportunity and enrichment through work!
Cassie Galiskis, Vice President of Professional Services
Having previously served as a paralegal, Cassie started with Eastridge in 2014 as a legal recruiter. Cassie was promoted to branch manager, eventually taking over as the leader of our San Diego professional services team.
As Vice President of Professional Services, Cassie will oversee the growth of our professional team in San Diego and continue expanding our presence in new markets including Boston. She is also a co-founder and co-chair of Eastridge's LGBTQ+ Committee where she helps foster unity between members and allies through professional, academic, and social programs.
"We couldn't be more excited to recognize Cassie for her continued contributions to Eastridge and look forward to her continued leadership in shaping our bright future. Key to Cassie's success is an insatiable drive to deliver world-class service to our customers, serving as an inspirational servant leader, and her laser-like focus on finding the very best talent for her teams," says Luke Lindahl, President of Workforce Recruitment.
In her new role, Cassie looks forward to supporting Eastridge's aggressive national professional expansion and leading the charge on our team's continual growth and development. Cassie says, "I am so incredibly proud of the leaders and team members we have, and I'm excited to watch them continue to excel and develop."
Evan Levine, Assistant Vice President of National Services
Evan began his career with Eastridge in 2015 as a referral from our controller, and in 2018 he was promoted to manage the San Diego direct hire recruitment team. His work there was instrumental in managing complex recruiting operations which contributed to the growth of several key national clients. In 2021, Evan was promoted to Director of National Accounts.
As Assistant Vice President of National Services, Evan will continue to support our national clients through our recruitment process outsourcing (RPO), professional recruitment, and volume recruitment solutions. He was a founding member of both the Eastridge Advisory Board and the Excellence Award Committee, which honors Eastridge employees who go above and beyond in demonstrating our values. He has also served as a member of our New Hire Welcome Committee and internal mentorship program.
"It's been a privilege to work with Evan as he launched Eastridge's national services platform. His creativity and passion for delivering exceptional service helped him shape tailored solutions for our national and RPO customers. I believe Evan represents the bright future of our organization and am proud to have worked so closely with him in his new role," says Luke Lindahl, President of Workforce Recruitment.
In his new role, Evan looks forward to continuing to grow our national footprint. He says, "Even after 50 years in business, there is still so much ahead at Eastridge. Especially for our national services team, we are only scratching the surface. I am honored and most looking forward to creating a positive impact on our internal employees, on-assignment workers, and clients every single day."
Ariana Lujan, Vice President of Payrolling Services
As Vice President of Payrolling Services, Ariana will be dedicated to growing our workforce management team with a focus on managed service provider (MSP) and payrolling solutions. Ariana joined Eastridge in 2015 as an operations manager, holding multiple roles within Eastridge's workforce recruitment division supporting our construction and renewable energy teams.
In February 2020, she joined the workforce management side as Director of Business Services where she led our payrolling (employer of record) team. Her experience with volume operations and customer support has more than prepared her for her recent, hard-earned promotion. Ariana is currently a co-chair of the Women of Wonder (WOW) employee resource group and a member of the Eastridge DNA interview panel. She has also previously served on the Eastridge Advisory Board.
In her new role, Ariana looks forward to continuing to offer valuable solutions to clients and enabling them to grow their businesses and engage with the workforce. Ariana says, "I am so excited about the future of our division, in this time when the nature of work is changing and evolving daily and the once-local search for talent has expanded across states and even countries."
Nothing brings Ariana more enrichment at work than being a leader to her team. She notes that Eastridge's workforce management team is a hard-working, dedicated group of unique individuals that she is grateful to have the opportunity to work alongside. As she moves into this role, she looks forward to continuing to support her team, drive change for their benefit, and celebrate their continued successes.
About Eastridge
Established in 1972, Eastridge is an employee-owned organization founded on the mission to provide opportunity and enrichment through work. Through a core belief in servant leadership and fostering growth, we have remained dedicated to our original mission while innovating technology and services to help our clients thrive.
If you're interested in joining the team, we invite you to browse our open roles. You can also follow us on LinkedIn, Twitter, and Facebook to stay up-to-date on all things Eastridge.