July 29, 2021
Eastridge Wins Two 40 Next Top Business Leaders Under 40 Awards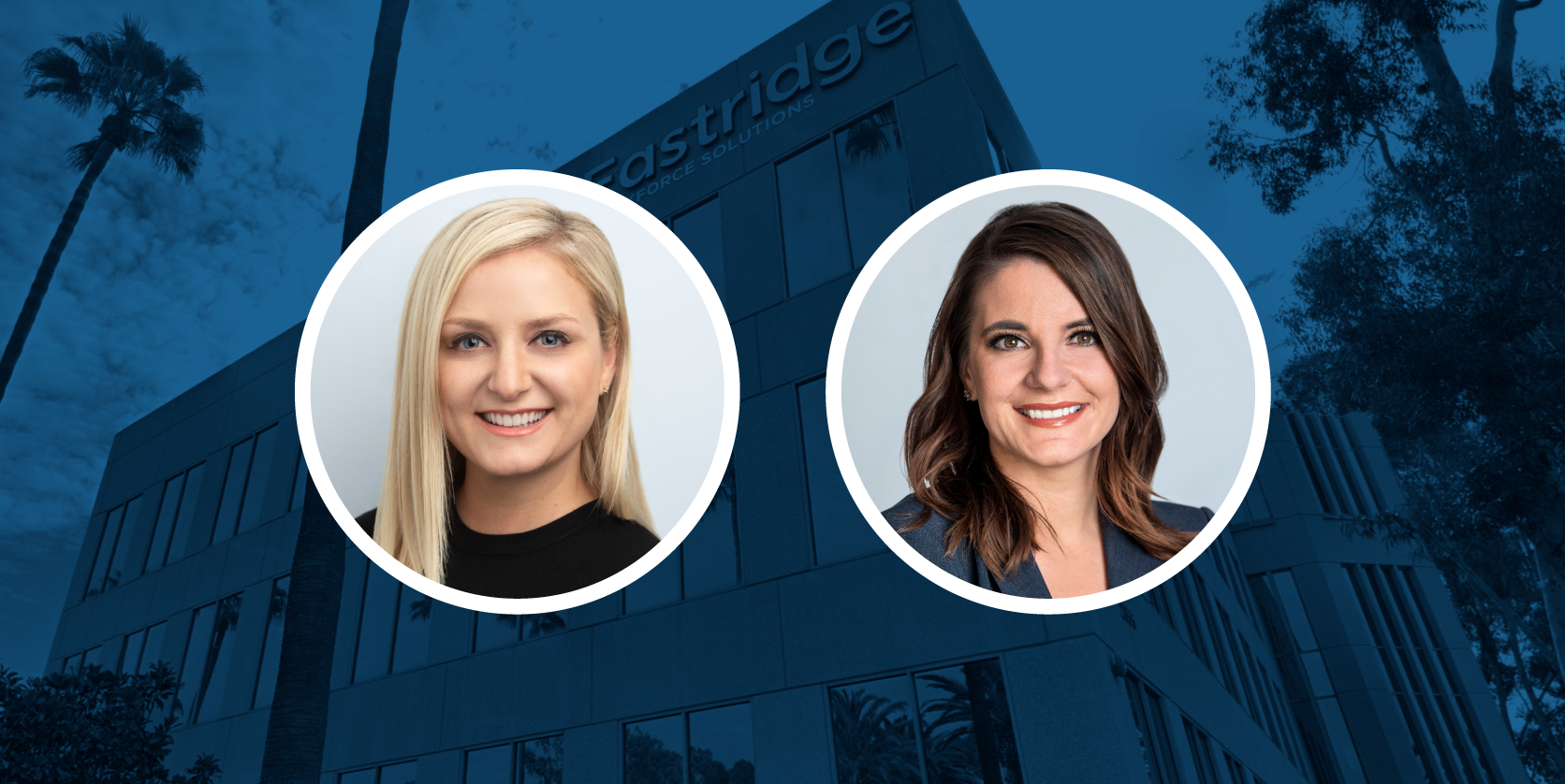 AUGUST 2, 2021 - San Diego, California – Eastridge Workforce Solutions, a global leader in talent acquisition and management solutions, today publicly announces that Laura LaManna, Chief Of Staff, and Cassie Galiskis, Regional Vice President of Professional Staffing, have each been awarded 2021's 40 Next Top Business Leaders Under 40 Awards by the San Diego Business Journal.
The San Diego Business Journal awards young professionals, leaders, and innovators who are making waves, inspiring change, and creating a positive impact on their communities.
Laura LaManna, Chief of Staff
Laura leads the Eastridge team in building internal and external connections, supporting the executive team's strategy, and assisting the organization's ultimate mission: providing individuals with opportunity and enrichment through work.
With Laura managing sourcing's development and international expansion, Eastridge has experienced rapid growth across our organization over the last year, even during a pandemic that directly impacted the recruiting industry. This growth allowed Eastridge to boost our national and international presence, generating numerous opportunities for employees within the company. Through Laura's supportive initiatives for the executive team from a strategy perspective, new divisions and service lines have also been created at Eastridge.
Throughout her tenure at Eastridge, Laura faces challenges by finding a solution that amplifies the growth and values of the company. She is an inspiring colleague, a caring manager, and a remarkable leader.
Cassie Galiskis, Regional Vice President of Professional Staffing
Cassie helps many at Eastridge grow professionally both as individuals and as a team. With Cassie's leadership, her division experienced unprecedented growth, resulting in the largest division headcount and one of their most prosperous years to date.
In addition to this rapid growth and resilience, Cassie has elevated and formally promoted several of her team members through the pandemic. In the last six months, many of her team members were promoted to various levels of leadership roles in the eight divisions she leads. In turn, these newly-established leaders pass on their knowledge to help guide and mentor division newcomers.
Cassie is honored to share Eastridge's mission of opportunity and enrichment through work with those in her community, impacting lives daily and bringing fulfillment to many.
About Eastridge Workforce Solutions
Established in 1972, Eastridge Workforce Solutions is an employee-owned provider of full-service talent acquisition and management solutions for companies globally.
Ranked as a top professional recruiting firm by Forbes, 2021's top talent acquisition vendor by OnConferences, and in the top 1% of firms by Staffing Industry Analysts, Eastridge proudly helps over 20,000 associates find jobs annually across the globe.
Eastridge drives talent acquisition, cost reduction, compliance, and visibility for companies that integrate their contingent workforce ecosystem with our core five services: professional recruiting, volume recruiting, payrolling, MSP/VMS, and RPO.
Through these solutions, Eastridge manages your entire recruitment process. Clients acquire top talent through our professional recruiting searches and regulate compliance through payrolling. Additionally, companies in growth mode can seamlessly adapt Eastridge's MSP/VMS solution and augment high-growth needs with volume recruiting and RPO.
Eastridge focuses on seven major industries: life sciences, manufacturing and distribution, emerging technology, consumer goods, media and entertainment, renewable energy and construction, and financial services.
With strategic contingent workforce management programs and comprehensive staffing solutions, we make it easy for our clients to attract top talent and manage a diverse contingent workforce.
---
Follow us on LinkedIn and check out our open positions to learn how working for an award-winning company can make a difference.