November 9, 2023
Eastridge Announces the Formation of S.E.R.V.E.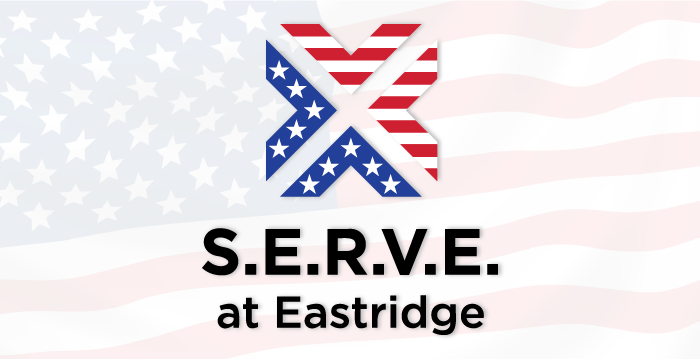 On this Veterans Day, Eastridge is proud to announce the formation of our newest Employee Resource Group (ERG), S.E.R.V.E. Short for Supporting and Engaging Resilient Veterans and Enlisted, S.E.R.V.E.'s mission is to offer community support to veterans, spouses and the military, and to provide resources to Eastridge recruiters to help the larger military community find work.
Shayley Steinke, Manager of the Professional Division at Eastridge, founded the ERG along with executive sponsor Darlene Hunter, Director of Diversity and Engagement. Shayley co-runs the ERG with Caine Hernandez, Staffing Specialist in the Commercial Division at Eastridge.
Speaking on the ERG's primary mission, Shayley said, "We can offer support and education on a range of topics like transitioning from military life to civilian life and vice versa. We are aiming to get as many people involved in this ERG as possible – both within and outside Eastridge – so we can have the greatest impact."
As a workforce solutions company, Eastridge is also in a unique position to help veterans and their families make the transition to working in the private sector, and has a long history making this effort. Speaking on S.E.R.V.E.'s additional role within Eastridge, Shayley said, "We also seek to serve as a resource within Eastridge to help us all be better at our jobs by supplying useful information to help recruiters help veterans/military/spouses find work. As part of this effort, we'll produce materials on an ongoing basis including a guide on how to write military resumes and a guide to military acronyms."
As we reflect on the historical importance of Veterans Day, with S.E.R.V.E., Eastridge is also looking towards the future, and to finding more ways to have a positive impact on the larger community. Forming S.E.R.V.E. is a good first step that will lead to many others, and Eastridge is looking forward to supporting the larger military community today and well beyond.
About Eastridge
Established in 1972, Eastridge Workforce Solutions is an employee-owned provider of full-service talent acquisition and management solutions for companies globally. Eastridge provides a full range of solutions solving today's workforce challenges. In addition to professional / technical and industrial recruiting we provide workforce management solutions such as payrolling, recruitment process outsourcing, as well as master service provider and vendor management systems programs. We back our services with the Eastridge Cloud, a proprietary technology that streamlines every step of workforce management. Eastridge proudly helps over 20,000 associates find jobs annually across the globe.