July 7, 2021
How Eastridge Cloud Solves Your Challenges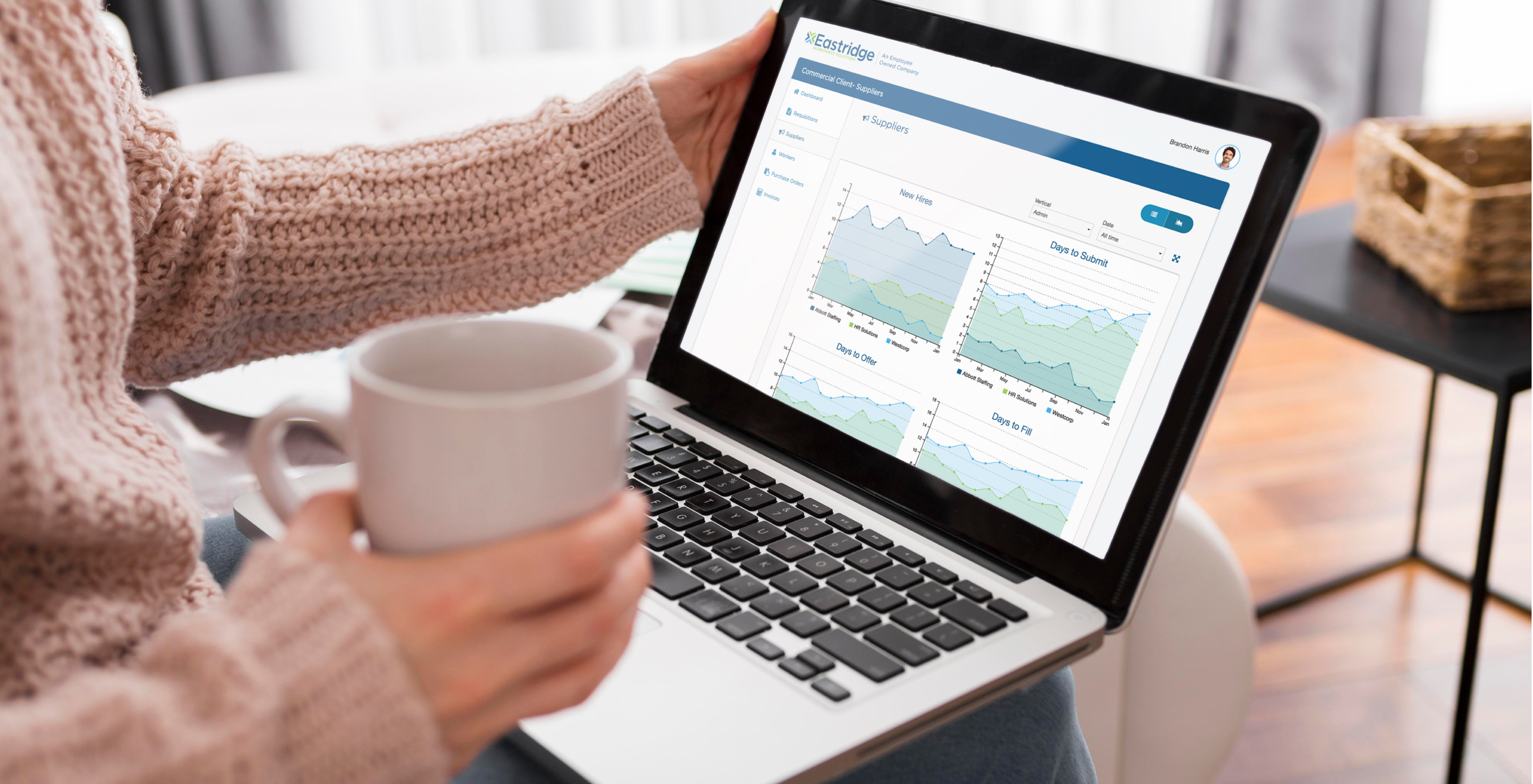 As experts in innovation, Eastridge provides full-service talent acquisition and management solutions for companies globally. Through thousands of client partnerships across industries, we develop customizable solutions to solve challenges for unique talent needs.
Through real-world use cases and feedback from expert end users, we developed Eastridge Cloud™, our proprietary software for our clients and associates. Eastridge Cloud is designed to be easy to use yet capable of solving highly complex challenges.
The primary features of Eastridge Cloud aim to guide organizations through the many facets of managing recruiting efforts. These include contingent worker rosters, third-party staffing partners, and simplifying and integrating with existing tools.
Key Eastridge Cloud Features
Cost center allocation
PO tracking and depletion notices
First, second, and third shift timekeeping across midnight barrier
Shift differential pay and reporting
Workers with multiple assignments across various departments
Compliance when engaging 1099s
Onboarding process tracking
Our solution delivers proactive communication and efficient, accurate solutions that scale with your company. We also offer consultation and custom reporting tools, giving you a comprehensive, dynamic look at your performance.
Better Visibility
From hiring to payrolling, Eastridge Cloud allows you to oversee every aspect of your global contingent workforce and supplier network. Our solution provides quality, consistency, and visibility for managing your contingent workforce programs. With real-time data and visibility, you can produce cost savings, mitigate risk, ensure compliance, maximize transparency, and drive engagement.
We also work to streamline existing suppliers, saving you time and money. Eastridge Cloud manages vendor payments with seamless visibility to produce greater cost-savings, eliminate rogue spending, and consolidate supplier invoicing.
Tech Optimization
Eastridge Cloud works with our clients, supporting a rich, mobile-first experience to streamline how you manage your contingent workforce. Keeping your business on track, Eastridge Cloud works on mobile devices, laptops, tablets, and desktop.
Eastridge Cloud provides custom onboarding for each worker, ensuring immediate productivity for all new hires and eliminating tedious pre-hire paperwork.
Eliminate Complexity
With Eastridge Cloud, we aim to solve your workforce challenges through configurable workflows and automation. Our optimized technology makes minimizing workforce complexities easy.
Follow us on LinkedIn and register for a live demo to learn more about how Eastridge Cloud can manage your contingent workforce solutions and supplier network.
About Eastridge
Established in 1972, Eastridge Workforce Solutions is an employee-owned provider of full-service talent acquisition and management solutions for companies globally. Eastridge provides a full range of solutions including professional / technical and commercial staffing. We also provide workforce management solutions such as payrolling, recruitment process outsourcing, as well as managed service provider and vendor management systems programs. Our services are backed with the Eastridge Cloud, a proprietary technology that streamlines every step of workforce management. Eastridge proudly helps over 20,000 associates find jobs annually across the globe.
---