March 3, 2023
Advocacy and Allyship in February and Beyond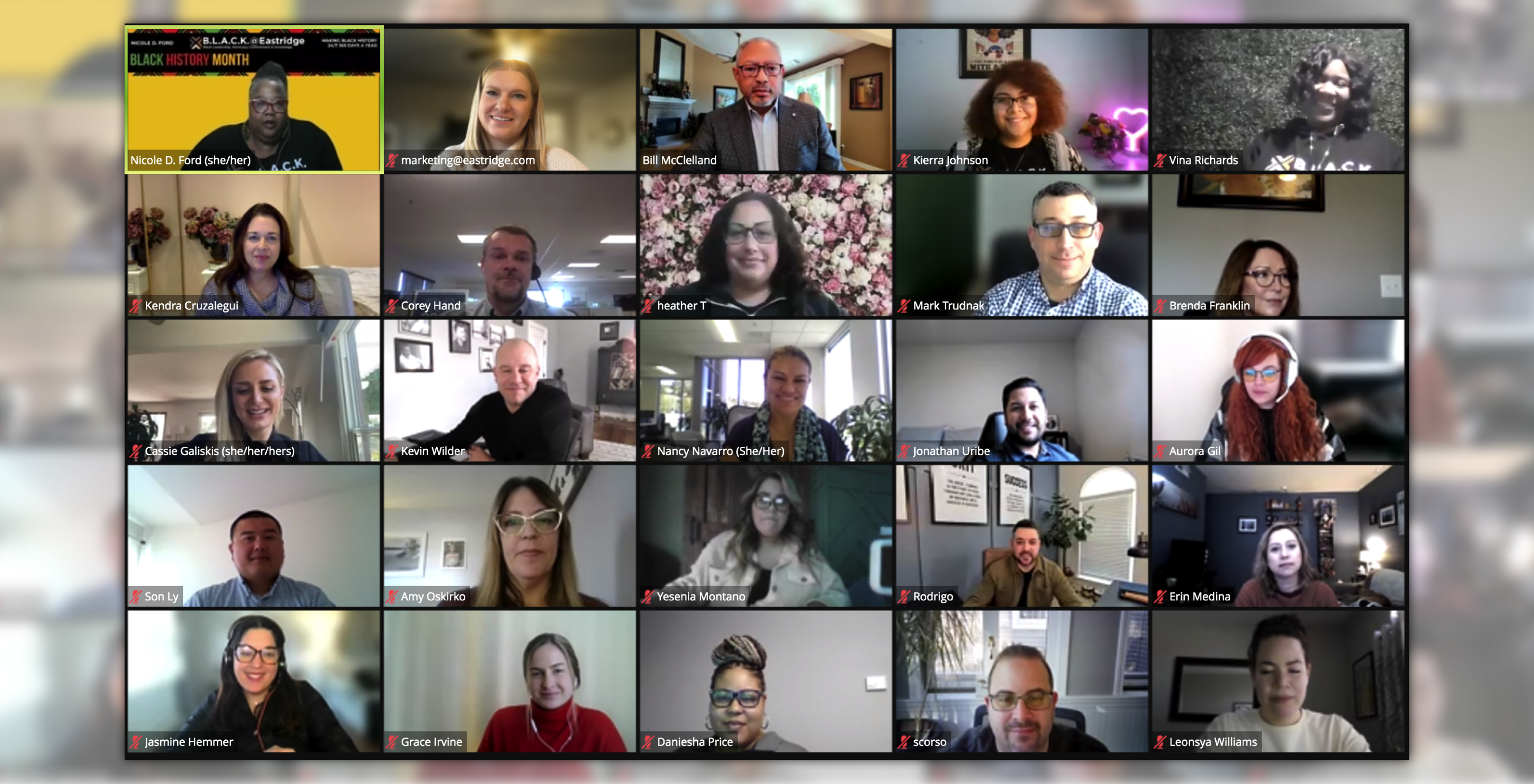 Throughout February, Eastridge gathered as a company to commemorate the vital contributions made by many individuals within the Black Community to build the foundations of our country. During the course of our celebrations, members of the executive team, including me, have engaged in revealing and enlightening conversations with members of our Black Community at Eastridge, which have helped us understand each other more, deepen relationships and will shape initiatives to come.
B.L.A.C.K.@Eastridge Advocacy and Leadership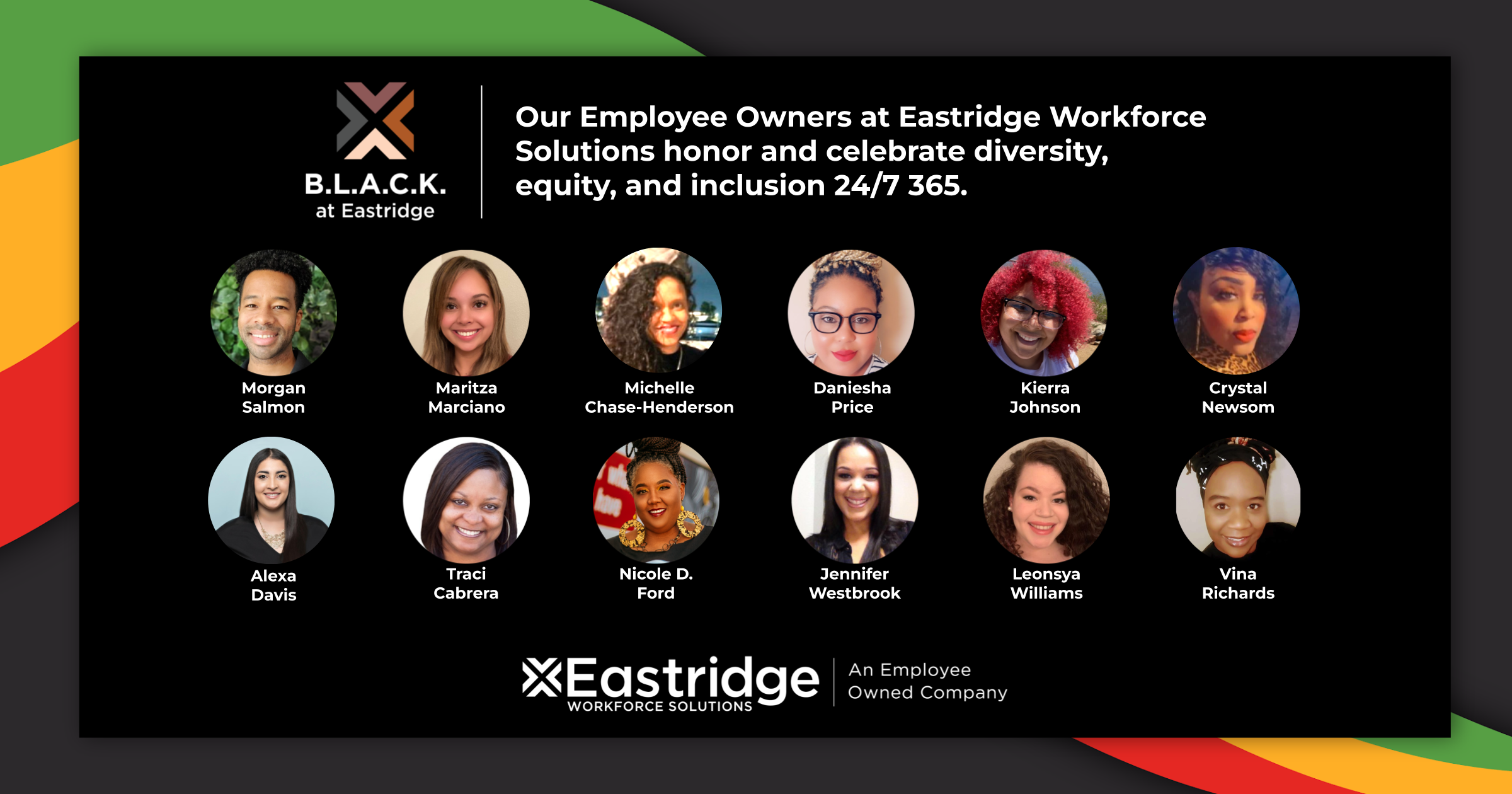 At Eastridge, we are proud of the strength and authenticity of our company culture, which is strongly supported by the leadership of our employee resource groups (ERGs). B.L.A.C.K.@Eastridge, our ERG representing the Black Community, planned and organized the nationwide, month-long celebrations we enjoyed this past month. The ERG issued a beautiful newsletter which included a myriad activities anyone could participate in, including where to shop to support Black businesses, which offices nationwide to gather in person for lunch, reading and streaming material to learn more about key figures in Black History, and information on a volunteer opportunity, for which we gave time off.
As part of their leadership, B.L.A.C.K.@Eastridge was instrumental in launching a new Executive Sponsorship program specifically for its members. Now, B.L.A.C.K.@Eastridge members can create a 1:1 relationship with an Eastridge executive for mentorship and advocacy. This means that in addition to providing advice and best practices, Executive Sponsors will advocate for their protégé for career advancement opportunities during conversations mentees are not part of. We are proud of this program and look forward to reporting on the results.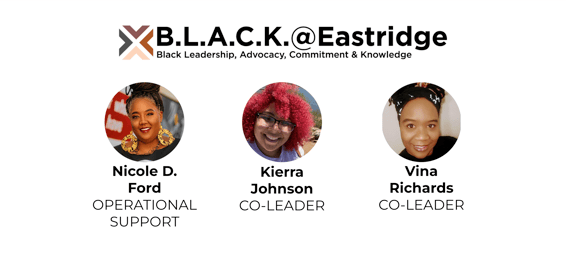 Spotlight on Eastridge Employees
As an employee-owned company, we place a high value on employee satisfaction, input and advancement, sharing the belief that when one of us succeeds, we all do. Hearing about 10-year Eastridge employee, Sr. Business Development Specialist Traci Cabrera's career growth within the company in her interview with B.L.A.C.K.@Eastridge Co-Leader and National Recruiter, Kierra Johnson, was especially gratifying. Learning about her success as a top producer, overcoming unconscious bias and self-doubt was inspirational.
The ERG also featured a weekly video series on our social channels in which employees shared ways to celebrate Black History Month and some of their own personal stories. Eastridge Strategic Delivery Manager and Operational Support for B.L.A.C.K.@Eastridge, Nicole D. Ford, shared key moments from her own personal history, and her passion for lifelong learning and service toward inclusivity across cultures. Branch Manager and B.L.A.C.K.@Eastridge member, Alexa Davis, shared her favorite Black-owned businesses to support and the ways she celebrates Black History Month.
Allyship
To commemorate Black History Month, B.L.A.C.K.@Eastridge invited Eastridge Member of the Board, Bill McClelland, as special guest speaker for its February Allyship meeting. Nearly half the company attended, and felt Bill's passion as he spoke about diversity goals, how valuable it is to show up to the workplace as your authentic self, and the benefits of diversity for individuals, communities, and companies. He stressed how critical it is to not only build but to maintain strong relationships over time and the impact that exuding positivity can have on your success, including lending emotional support to your community. Bill laid out ways you can build up business acumen, how critical it is to pave your path to success, and the importance of reaching back to help elevate your community.
Eastridge's Commitment
Black History Month is coming to a close, but our work acknowledging Black History and elevating Black Voices continues, and we look forward to sharing more about this in the weeks and months ahead. Support within B.L.A.C.K.@Eastridge continues daily, and the ERG's advisory work with the executive team on DE&I topics continues regularly. The invaluable contributions of B.L.A.C.K.@Eastridge, along with all of our ERGs, is key to helping us create the kind of inclusive team culture in which everyone can thrive.