August 18, 2023
Case History: Winning the Battle for Semiconductor Talent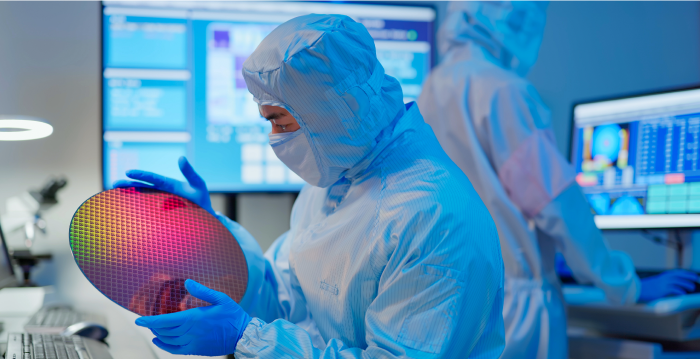 According to a widely circulated report by the Semiconductor Industry Association, the CHIPS Act of 2022 is projected to create nearly 200,000 jobs in the semiconductor industry and in the wider U.S. economy over the next several years. The New York Times reports that this could lead to a shortage of up to 90,000 semiconductor workers in the next few years, and a shortfall of about 300,000 engineers and 90,000 skilled technicians in the U.S. by 2030.
In the highly cyclical chip market, many of the chip makers who overproduced to fulfill demand during the pandemic have now worked through much of their inventory, and will need to once again ramp up operations. In fact, some U.S. chip makers have already begun fighting for talent in the face of an already extremely limited global talent pool.
Eastridge has already solved such challenges in working with leading semiconductor companies. One industry-leading semiconductor client needed talent to design schematics to build chips that offered specific functionality and scale. The client also needed engineers to test the semiconductor designs for flaws and for quality assurance (QA) prior to shipping the designs to manufacturing.
Eastridge then developed a tailored MSP program to help the client find the right talent. The Eastridge team helped fill 20 needle-in-a-haystack contract design engineering roles in just one month through its extensive partnership network to find the right talent match, and offered benefits to appeal to candidates who had their pick of employment opportunities as well as pay.
In addition, design engineer candidates needed to be open to working 70+ hour weeks occasionally in order to meet strict deadlines, all of which were met by the engineers the team sourced.
---
"It's easy to say no, but at Eastridge we find workforce solutions for how to say yes. We approach our clients' problems asking, "How can we make this work?"
– Eric Ung, Senior Program Manager
MSP Division at Eastridge
---
Challenges
The client needed to source 20 highly specialized design engineering roles to test semiconductor designs to ensure design quality prior to being shipped for manufacturing. In sourcing such talent, the company faced the following challenges:
Source 20 Niche Open Roles in Design Engineering. Such talent is hard to find in any market, let alone during a nationwide talent shortage when competition for talent was fierce.
Candidate Expectations of High Wages. Design engineering candidates who had the requisite skills could command very high wages as tech companies competed for talent and depending on where they were located.
Retaining Good Talent. The fierce competition for talent in the semiconductor space makes holding on to good talent challenging as skilled engineers are often headhunted by competitors to work on exciting next generation technologies elsewhere.


---
Solutions
"Given the client needed to hire for a skillset that was in very high demand and difficult to find in the best of times, we sourced talent globally to enlarge the talent pool. This allowed us to find the best possible candidates that had the technical skills to do the job well and who were a culture fit, who would be happy to buckle down when a deadline had to be met."
- Eric Ung, MSP Division at Eastridge
To solve the client's challenges, the Eastridge team implemented the following solutions:
Leveraged Eastridge's Global Staffing Network. To enlarge the limited talent pool, Eastridge recommended the client work with one of its MSP staffing partners in India with access to talent with the requisite R&D design engineering testing and QA skills.
Sourced Talent Remotely. To keep wages within budgets and avoid the high wages in certain regions in the U.S., the Eastridge team selected MSP staffing firm partners with qualified workers working remotely in geographies with lower living costs for inclusion in the client's MSP program.
Designed a Competitive Benefits Package. Partnering with its MSP agencies, Eastridge designed a benefits package offering 10-12 days of vacation per year as well as floating holidays, which is a rare benefit for contract workers. Additionally, to help the client retain qualified talent, Eastridge paid workers at market rate or slightly higher.


---
Results
By taking a broader perspective in their approach to solving the client's challenges, the Eastridge team helped deliver the following results –
Filled 20 highly specialized design engineering, testing and QA contract roles in the semiconductor client's R&D department in 5G technology in one month
93% retention rates for all contract employees within the MSP program
Relying on the workers Eastridge helped source, the client was able to deliver the tested chip designs to manufacturing on-time


---
About Eastridge
Established in 1972, Eastridge Workforce Solutions is an employee-owned provider of full-service talent acquisition and management solutions for companies globally. Eastridge provides a full range of solutions solving today's workforce challenges. In addition to professional / technical and industrial recruiting we provide workforce management solutions such as payrolling, recruitment process outsourcing, as well as master service provider and vendor management systems programs. We back our services with the Eastridge Cloud, a proprietary technology that streamlines every step of workforce management. Eastridge proudly helps over 20,000 associates find jobs annually across the globe.