March 15, 2023
Procurement Trends in 2023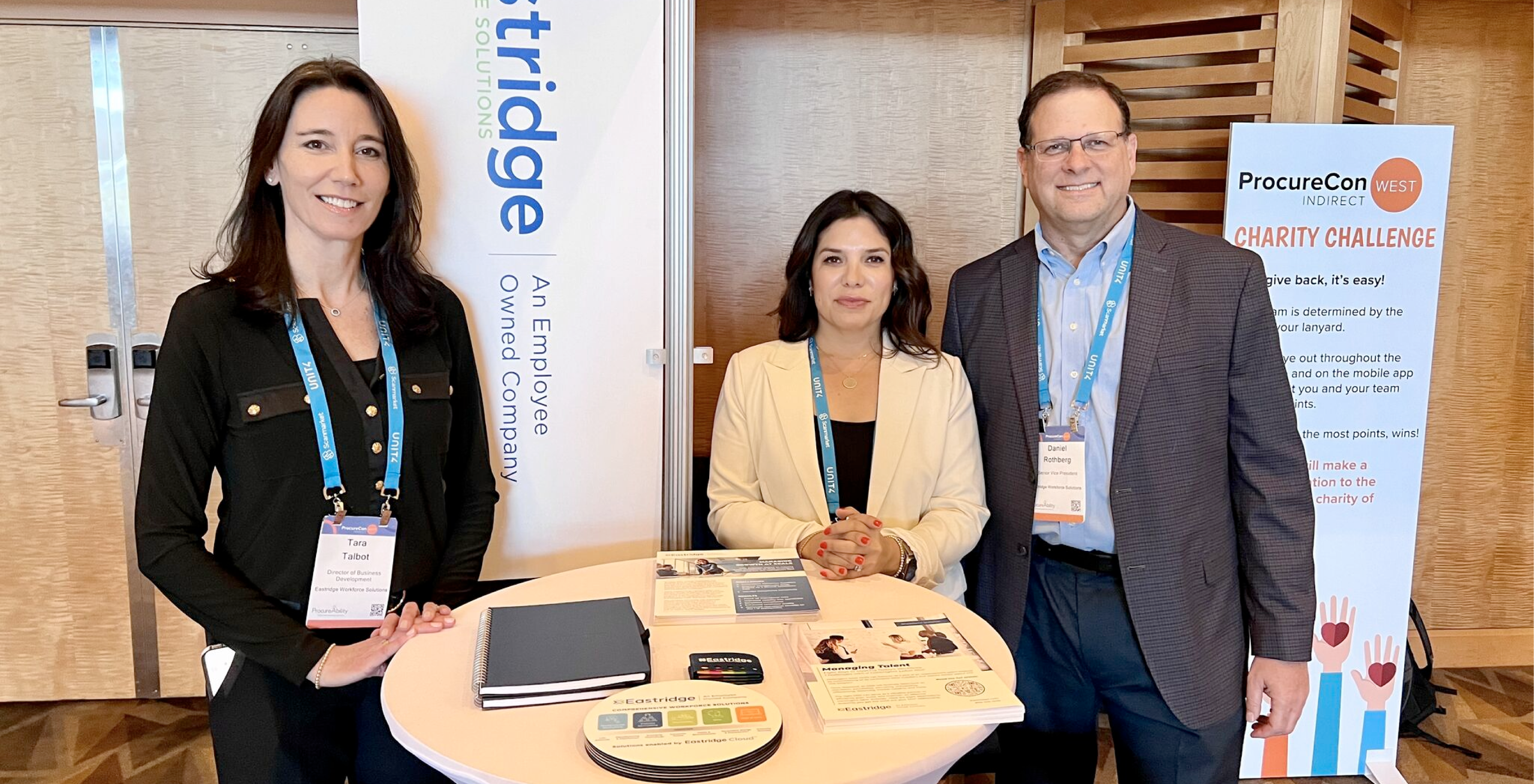 I recently attended ProcureCon along with a few other members of the Eastridge team, and met in person with a slew of procurement professionals there, learning about the key challenges likely to shape procurement in 2023. Like many in positions of senior leadership, procurement professionals are facing a host of challenges and looking for solutions that will help their organizations efficiently fill gaps in talent moving forward.
Organizational Efficiency
Organizational efficiency is top of mind for many procurement professionals in 2023. Most people I spoke with wanted to know what procurement could do to control costs in light of higher wages and inflation, while still delivering value to stakeholders. This is particularly difficult in the face of tight hiring markets in most industries.
Another pain point was the need to clean up the 1099 and SOW (statement of work, or contract) workforce. This is common within larger organizations, who often don't have visibility into this type of employee or their cost because they are categorized separately, so they don't know the full extent of their spend.
This kind of inefficiency can lead to compliance issues. If there is a dividing line between the business unit that benefits from the 1099 or SOW employee's work and the one that pays their wages, there are likely policies that that worker has not been made aware of, including company policies surrounding benefits or varying pay transparency laws by jurisdiction, whether remote work is allowed, and so on.
The Need for Easy-to-Use Technology
We've been told we're in the Golden Age of SaaS, but this is meaningless to companies if the technology they invest in doesn't deliver or continually add value over time. Investing in valueless technology can happen in a number of ways. The most common is that the solution simply isn't easy to use, leading employees to give up on it or use it improperly, which can lead to inaccuracies whose costs add up.
Attendees were also concerned about selecting the right platforms and ensuring their employees use it in the right way, to get the most value from it. Any solution must simplify – as opposed to overcomplicate -- the right processes across the organization in order to be of service toward meeting organizational goals.
Good service behind a technological solution is also key. Proper implementation is vital to extracting value, and if there isn't a person behind it who can customize it to meet an organization's needs or who can help teams use it properly, it's a sunk cost.
True Partnership
What's most important to procurement professionals is not necessarily cost (although that is important) but delivering value; being able to maximize value to stakeholders. This is best achieved when there is a true partnership between procurement and suppliers.
Especially on the staffing side, finding a supplier willing to dig into the particulars of a given business, understand it, and identify the full extent of procurement's needs, can make an enormous difference in outcomes, and in procurement's ability to fulfill the lifecycle of the agreements in place with stakeholders.
Having a partnership with a truly invested staffing MSP, for example, can yield creative solutions procurement may not have thought of to seemingly intractable problems. Additionally, if the goal is to control costs but also to maintain a consistent level of service, a staffing MSP program can offer both, and even free up managerial time to focus on more strategic problems. This is one possible solution of many.
The good news is that the challenges procurement professionals face now are not entirely unprecedented. There are many ways that staffing solutions can be used to help achieve any number of business goals including supporting growth and controlling costs, delivering value even in a high inflation, high wage environment. My team and I look forward to enhancing our relationships with procurement professionals over the course of the year, and bringing creative, strategic solutions to their workforce challenges.