September 1, 2023
Eastridge Workforce Solutions MSP Named a Major Contender and a Star Performer in Everest Group PEAK Matrix®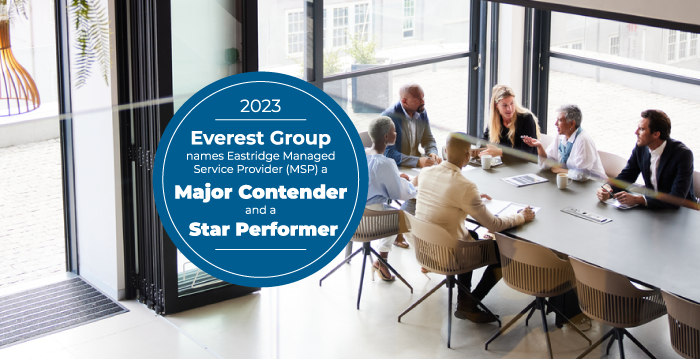 Recognition for value delivered, innovation, and delivery footprint
Eastridge Workforce Solutions announces that Everest Group has ranked Eastridge's Managed Service Provider (MSP) Solution as both a Star Performer and a Major Contender in its Contingent Workforce Management (CWM) / Managed Service Provider (MSP) PEAK Matrix® Assessment 2023. Each year, Everest Group ranks MSP providers using a wide range of measures including value delivered, market adoption, vision and strategy, scope of services, innovation, and a host of other criteria. Everest Group selects Star Performers based on the relative year-over-year advancement on its PEAK Matrix®.
"Eastridge has made significant investments in its MSP services and our placement in Everest Group's PEAK Matrix® is a milestone for our growth in this sector," said Kasey Hadjis, President, Workforce Management at Eastridge. "Eastridge's broadening of our MSP offering provides clients enhanced transparency to better manage costs as well as scalability and flexibility ideal for organizations to better manage their contingent workforce programs."
Eastridge MSP serves clients across a wide range of industries including manufacturing, distribution, life sciences, technology, consumer products, and many more offer solutions that are service-centered, tailored, and transparent. This offering uniquely focuses on companies in need of a highly customized, small to mid-sized solution that provides a high degree of flexibility and scalability.
"Everest Group's recognition of Eastridge MSP as a Major Contender and a Star Performer underscores the value our MSP programs deliver to clients," said Seth Stein, CEO of Eastridge. "Our MSP offering helps companies large and small meet some of today's most complex workforce challenges. We will continue to build our MSP offering through our award-winning service, customized client solutions, industry-leading technology, focus on quality, and industry expertise."
"As recognized by Everest Group, Eastridge's MSP solution is ideal for clients that value a high-touch, strategic solution," said Daniel Rothberg, Senior Vice President at Eastridge Workforce Management. "Our solution is ideal for both a first generation MSP client or a company seeking a new, highly tailored and scalable solution. We're very proud that our ranking within the PEAK Matrix® reflects our strategy and we are looking forward to continued growth within the contingent staffing MSP space."
About Eastridge Workforce Solutions
Eastridge partners with industry leaders to efficiently match them with talented, skilled teams essential to long-term business growth. Our award-winning service, high standards in quality, and focused expertise in the industries we serve are key to Eastridge's decades of success. From filling specific critical roles to executing high-volume employee engagements to implementing programs that solve complex staffing challenges, Eastridge is the partner to trust for the talent you need. Learn more at www.eastridge.com.