November 30, 2021
How to Easily Manage Your Payroll & Compliance in Global Markets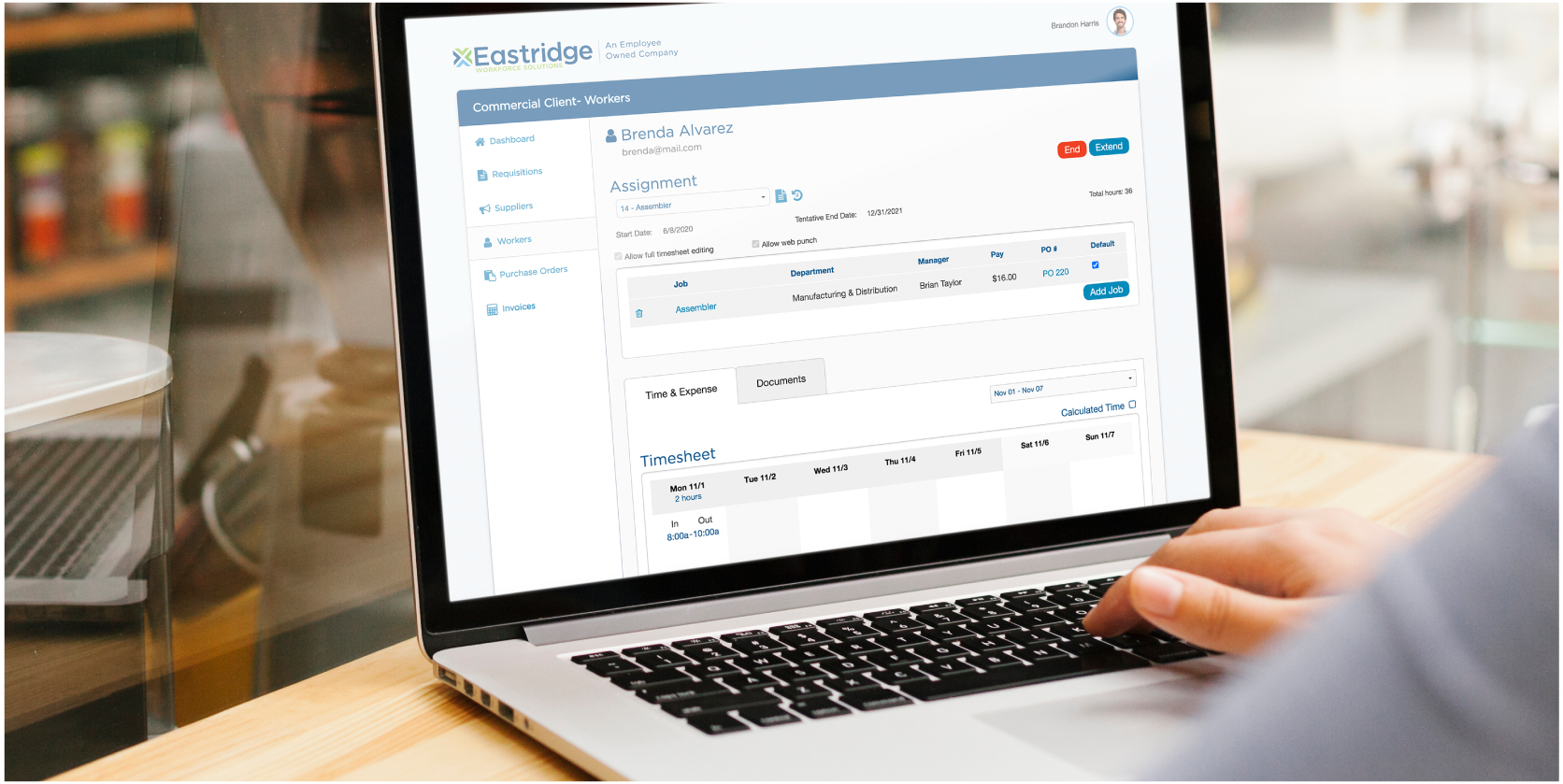 The contingent workforce is only expected to grow in the future. According to a recent report by Intuit, contingent workers make up around 25-30% of the United States workforce, and this number is accelerating annually. With over 80% of corporations planning increases in workforce flexibility, the first step in maintaining vital compliance is managing your contingent workers within local, state, and federal employment guidelines.
Payrolling, also one of Eastridge's core services, is executed by an employer of record who assumes the legal role of the employer for all employment and tax purposes related to workers already identified. Payrolling helps organizations quickly onboard contractors, stay compliant with evolving employment laws, and reduce administrative burden.
Through payrolling services, companies like Eastridge manage all administrative functions, pre-employment screening, timekeeping, paycheck processing, tax reporting, end of year W-2 tasks, and other HR support items. Our in-house team of experts provides consistent communication and visibility to help you maintain a fully-compliant contingent worker program across the U.S. and internationally.
Payrolling at Eastridge
When Eastridge acts as your organization's employer of record for temporary and contract workers, we're able to mitigate risks and manage compliance to ultimately improve your ROI.
Payrolling Features
Navigating local, state, and national labor laws
Competitive and compliant benefits
Fast and convenient onboarding
Offboarding and employment verifications
Whether you're expanding into new markets or need help managing fluctuations in your workforce, our payrolling experts help you with compliance, processes, and domestic and international hiring.
Committed to Compliance
Remaining compliant with ever-changing labor laws and regulations may present challenges related to new laws, amended regulations, and misinterpretations.
Moving contractors over to Eastridge as W-2 payrolled workers is an easy way to maintain compliance, manage pre-employment screening, administer benefits, and hire in locations where you do not have a business presence.
Local or Global
If your business is growing or expanding into new markets, a third-party employer of record provider can leverage their already-established business presence in these locations.
With international offices, Eastridge provides superior global payrolling services. This can alleviate the need to allocate time and resources managing tax IDs for employees in various locations.
Configurable Requisition, Approvals, and Reporting
While the use of contingent workers continues to climb, organizations are seeking strategic technology that allows HR professionals to review costs, streamline invoicing, and automate onboarding.
Eastridge Cloud, our proprietary software, supports the worker lifecycle and client interaction to alleviate stress and provide more value. From e-signatures to online paperwork, our configurable portal streamlines the entire onboarding process.
Focused on Service
Eastridge's proactive customer support, quick turnaround, and flexible solutions differentiate us, providing you with higher value and ROI.
With Eastridge's payrolling services, you'll partner with a dedicated account manager and support team, sourced internally to provide superior service wherever you need us. Your dedicated account manager is backed by a team of payroll, compliance, and benefits specialists to provide accurate and timely responses to any inquiries.
Final Thoughts
Timekeeping and payrolling contingent workers has never been easier. Through competitive benefits and cutting-edge technology, our payrolling services allow you to efficiently allocate your organization's time and resources.
By assisting with issue resolution and onboarding, Eastridge is here to help you navigate local and national labor laws and stay in vital compliance.
---
Follow us on LinkedIn and learn more about who we are at Eastridge
and what we do for our clients.