May 3, 2023
Why Experience Counts in Legal Staffing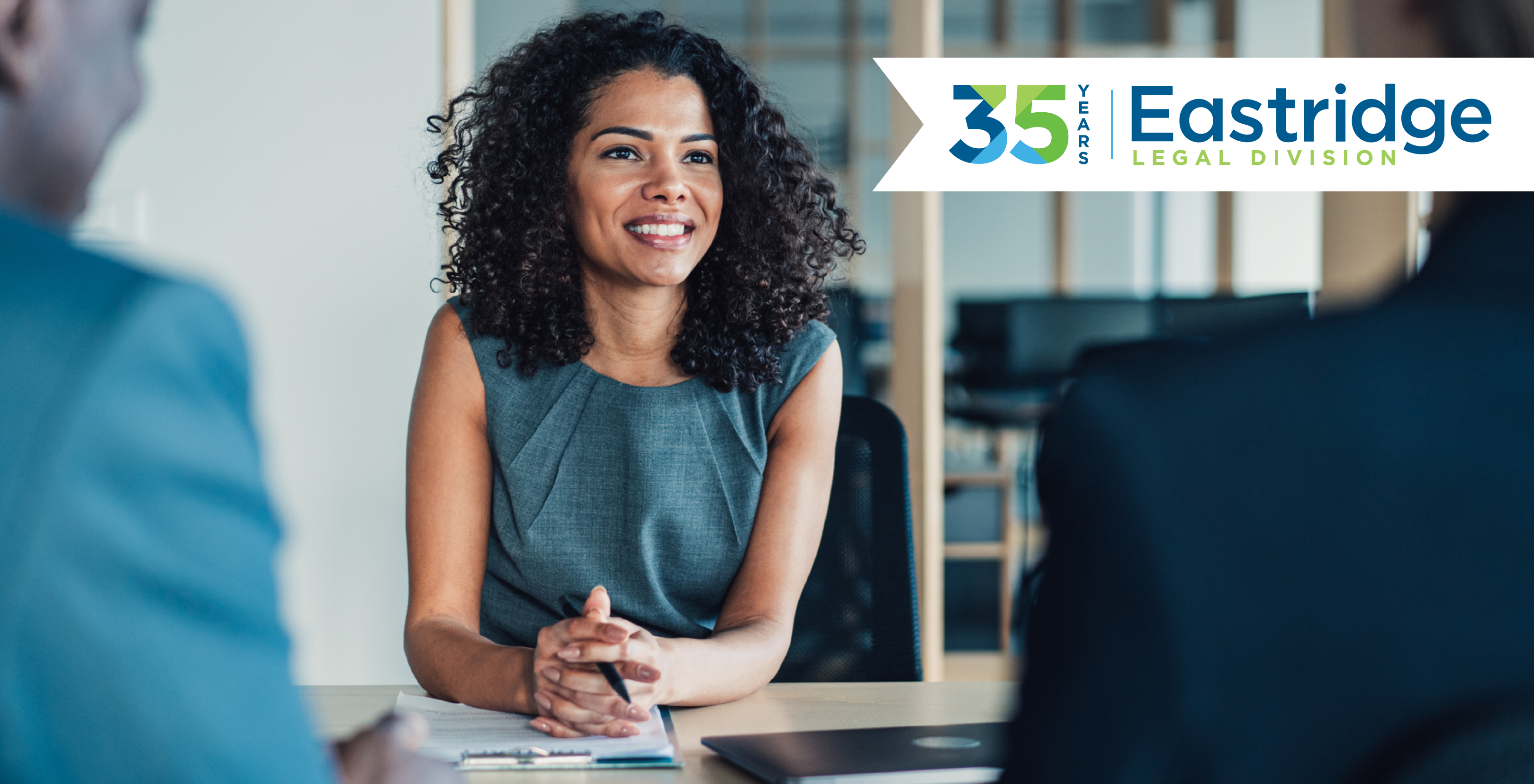 Ringing in our 50th year in staffing last year was a major achievement for Eastridge as a company, and a rare milestone in the staffing industry generally. Similarly, celebrating our 35 years servicing legal clients is another occasion for the company to celebrate, and to recognize the efforts and service of Eastridge's legal recruiting team.
But what does this longevity really mean, and what value does it bring to our legal clients? In the staffing world, experience and continually cultivating our expertise and best practices are essential to the success we've built for our legal clients, and in turn, ours as well.
Recruiting Challenges in the Legal Field
As with many other professions, legal employers are struggling to find and hold onto good employees. Return to work imperatives are increasing among firms, but as many legal professionals enjoyed the flexibility and comfort of being able to work from their homes the last three years, employers are challenged to find candidates open to either a hybrid schedule or to be onsite full time. Additionally, law firms in particular have a known problem with burnout, often across roles and departments beyond attorneys and paralegals, to also include HR professionals, procurement and marketing. We have seen high profile workforce reductions in the field as well. These days, by the time candidates come to us looking to make a move, they are nearly at their breaking point.
Ensuring Quality
Tackling these challenges is not easy, and this is where performing a thorough due diligence on both the open role and the candidates makes a big difference. Finding the right match of a candidate with an open role is key to long-term retention, so at Eastridge we ask a lot of questions up front.
On the client side, this includes asking about what the hours look like, how many billable hours are required, what the expectations are for the role if they will need to support many people, and what support is available to the open role. We meet with clients onsite to understand the company culture so we can accurately represent it to candidates. For example, if an organization works in small teams where creativity and collaboration are emphasized, this might be a selling point for candidates that are working remotely and feeling isolated. We only submit matches in terms of qualifications, culture and motivation, as we do not want to waste our client's, our candidates' or our own time.
We need all this information so we can select candidates with the right profile and talk them through how the role fits with their experience and career goals. In vetting candidates, we are just as thorough, and know many of them personally through our work over the years. We thoroughly understand their motives for making a move. We can advise them on how well their past experience has prepared them, as well as how the role fits with their career goals and how the culture of the organization could support them. We do have to rule out many candidates for positions, unfortunately. Additionally, because we are a recruiting firm, candidates can be very candid with us about what organizations are actually like to work for, so we bear this in mind when assessing which candidates might be best suited for an open role.
Legal Industry Expertise and Network
Through our longevity as a division and the commitment of our recruiters, Eastridge's legal team has amassed a considerable network and institutional knowledge which are vital in addressing today's legal recruiting challenges.
When looking for candidates that fit a specific profile, we start in our network. Each legal recruiter at Eastridge has experience working in the legal field, which helps them understand our clients' issues and also means they bring all their legal contacts with them. We receive referrals within our network constantly, and this is a key way that we find strong candidates. We are also members of legal associations, regularly attend legal industry events and conferences as well to continually expand our network. Because of this, at any given time, we can source high quality legal talent quickly. We have even accomplished this in secrecy – meaning no advertising of open roles on any public job posting services like LinkedIn or Indeed – so as not to tip off a client's competitors, by working solely within our trusted contacts.
Service Matters
In recruiting for roles in law firms or legal departments, clients are best served by a staffing partner that shows they care as much as you do about your problems. An ideal staffing partner can also provide much needed perspective and strategic advice that clients may be temporarily unable to see.
Good service can take many forms. Eastridge again provides a useful example. Our legal recruiting team routinely achieves 92% retention rates with candidates and our 99% satisfaction ratings from legal clients for excellent customer service. This is due to our collective, thorough effort as a team, an essential component of which being that we dig deep to understand our client's hiring or retention challenges, and keep probing until we uncover root causes of turnover and any other significant challenge, so that our placements will last long-term. We do our hiring market analysis at the start of each project to help our clients position themselves as best they can to candidates. We support them in the unfortunate event that they have to lay off employees, and coach them through those conversations.
We also advise and support candidates, helping them see which opportunities align with their career goals, and checking in with them to ensure they are happy in the roles in which we placed them. We do not push them to take roles we do not see them being successful in just to fill a role. In the event that they are involved in layoffs, we offer our support, and work to help them find new roles.
I'm very proud of everything the Eastridge Legal recruiting team has achieved in its 35 year history. Ultimately, however, the value of our experience brings better service and quality to both our candidates and clients.