March 10, 2021
Webinar Recap: Keys to a Successful Supplier Diversity Program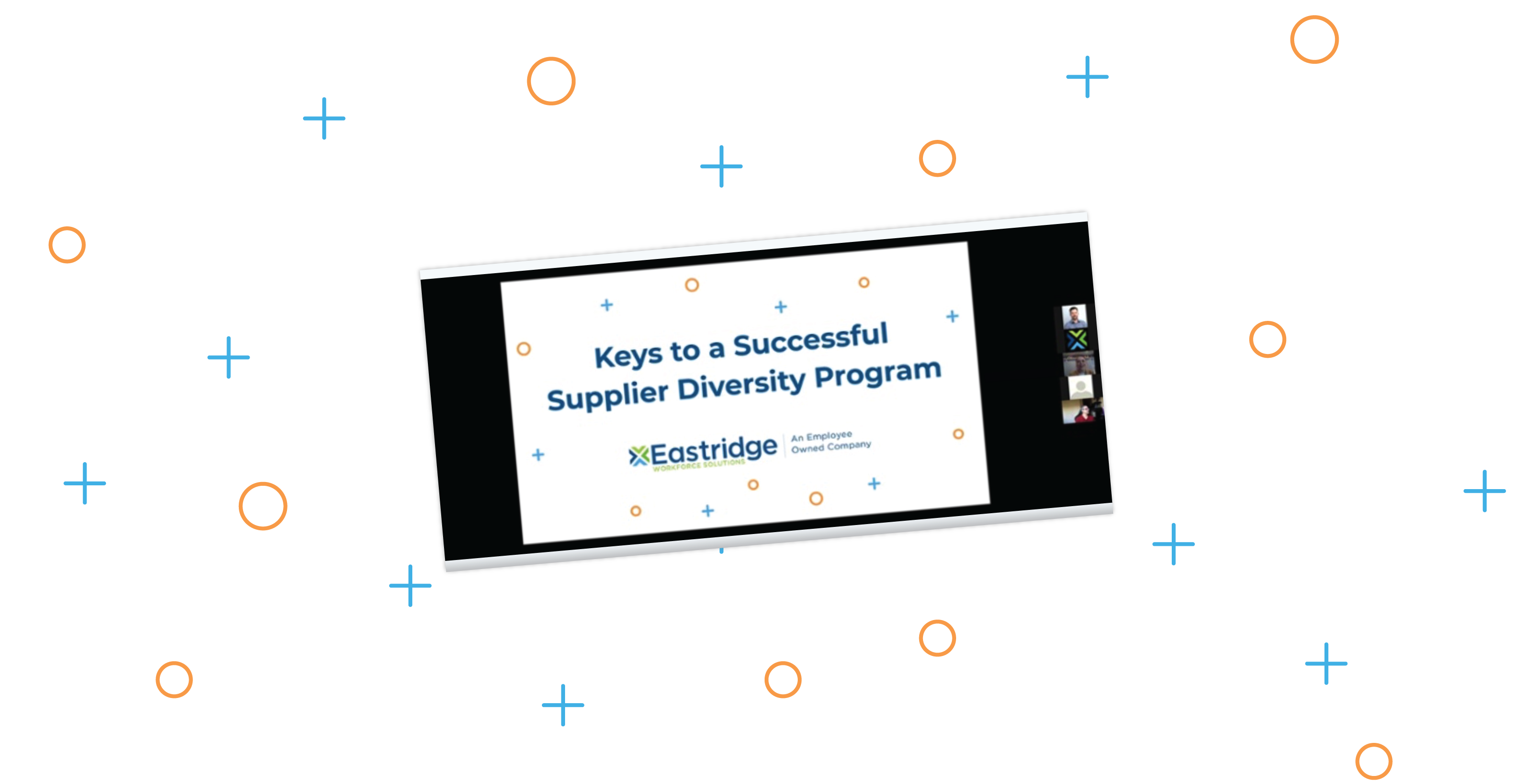 On February 25th, 2021 Eastridge hosted a webinar, Keys to a Successful Supplier Diversity Program. We were joined by procurement experts G.H. Swaleh, Nancy M, and Nino Campos hosted by Kasey Hadjis.
They reviewed the steps to take if you are planning on establishing or modifying your DE&I program. Watch our webinar to get the full breakdown and learn why the following items are important to a successful program!
What are some of the biggest impacts you have seen from having a supplier diversity program?
Revenue growth for both the company and the diverse supplier
Brand enhancement and recognition
Competitive advantage
Stimulating economic growth in the underserved communities
Creating job growth
What are some of the biggest challenges organizations might face with building their program?
Executive sponsorship
Lack of education, awareness, and passion
Competing with other company initiatives
Shortage of qualified suppliers.
Lack of budget
If someone is struggling to get buy-in from leadership what are the key steps they can take to get started?
Help them, so they will help you — understand management's vision and commitments in your program. Help them achieve their goals.
Create innovative best practices on how to support your organization
Create a preferred supplier base that sets you apart from the other preferred listings
Garner support across the enterprise
Educate, Educate, Educate
Set measurable goals
When developing a strategy, what is a key step that organizations tend to miss or overlook?
Define clear measures of supplier diversity success
Mentor diverse suppliers within the supply base
Pilot with a group of suppliers. Start small to show success before expanding.
Data Accuracy
Internal commitment
Mechanisms to locate opportunities.
How did you manage the program and keep it relevant to the company's strategy?
Refresh goals and targets annually to align with corporate goals
Meet with new executives early to provide awareness and garner their support
Introduce different diverse suppliers to the procurement organization frequently
What are the KPI's that organizations should track to measure their impact?
Percentage of spend with diverse suppliers
Percentage of diverse suppliers in the supplier base
Measure the impact of Supplier performance — supplier innovation cost savings, etc
Number of diverse suppliers invited to sourcing events in the last year
Number/percentage of suppliers reporting second-tier diverse spend
Sales contribution — deals won from meeting supplier diversity requirements
Updating and enhancing supplier diversity programs will likely remain an imperative for companies in 2021 and beyond. The benefits are slowly gaining widespread attention. Implementing a program will take time, but don't get discouraged. Nancy Minchillo stated, "Not every opportunity plays out as we would hope, however, any misstep is a lesson learned, so embrace that lesson and try again." For more on supplier diversity benefits and best practices, view the webinar recording!