How will your RPO team look?
Check out our RPO calculator to learn more about our custom pricing models and team scalability for your specific talent acquisition needs.
* All results are estimates and can change depending on locations, job descriptions, recruiters, and sourcers. Additional variations may alter the price quote. Contact for more details.
Learn more about Eastridge RPO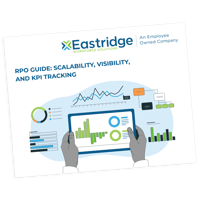 eBook
Find out what data your RPO vendor should track, how much visibility to track, and how to choose the right RPO solution.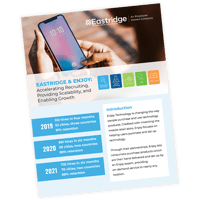 Case Study
See how Eastridge's RPO manages one client's processes and serves as an extension of their internal talent acquisition team.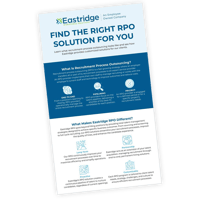 Infographic
Learn more about our exclusive pod structure that differentiates Eastridge's RPO to give you lasting success.
Established in 1972, Eastridge Workforce Solutions is an employee-owned provider of full-service talent acquisition and management solutions for companies globally.
Ranked as a top professional recruiting firm by Forbes, 2021's talent acquisition vendor of the year by OnConferences, and in the top 1% of firms by SIA, Eastridge proudly helps over 20,000 associates annually find jobs worldwide.
Eastridge drives talent acquisition, cost reduction, compliance, and visibility for companies that integrate their contingent workforce ecosystem with our core five services: professional recruiting, volume recruiting, payrolling, MSP/VMS, and RPO.
With strategic, comprehensive staffing solutions, we make it easy to attract and retain top talent and manage a skilled workforce.