March 23, 2022
How Employers Can Stay Ahead of the 2022 Talent Shortage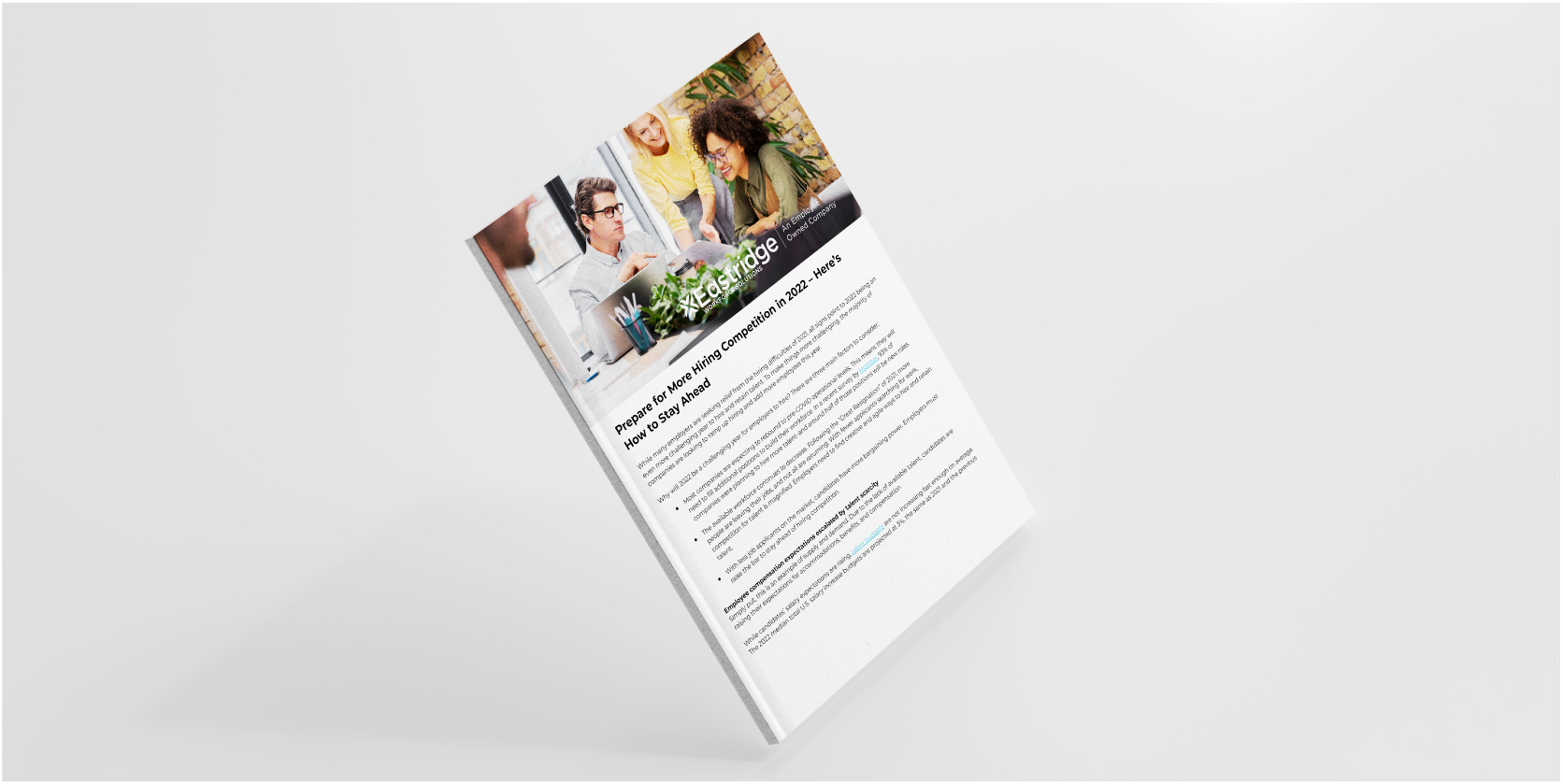 If your company is hiring, you know that the last two years have made it more challenging than ever to find and retain the right employees for your needs. Those challenges are only expected to continue in 2022.
The current labor shortage is a ripple effect of the COVID-19 pandemic. Even as the world starts to return to a "new normal," employers must make adjustments in order to stay competitive in today's hiring market.
Download our full report for more detail on the hiring market and how employers and job-seekers are responding.


What's Causing the Talent Shortage?
The current talent shortage is driven by two competing factors. First, U.S. employees are leaving the workforce in record numbers. Meanwhile, in an attempt to restore operations to pre-pandemic levels, companies are hiring for more positions.
There's a variety of reasons people are leaving the workforce, from health risks at work and changing childcare situations to newly-created equity in the housing market. Older workers are retiring earlier, and younger workers are not entering the workforce fast enough to replace them.
In January 2022, there were three open jobs for every two available candidates. With more open positions than talent, the current hiring market favors candidates over employers. Now, employers must be more competitive than ever if they want to hire and retain talented workers.


How Can Employers Stay Ahead of the Talent Shortage?
Staying ahead in the current labor market requires a multifaceted approach, one that may require companies to reexamine their existing practices and implement meaningful changes.
Invest in Existing Talent
To start, companies should invest in their existing employees. Most hiring managers know it's more costly to find a new employee than it is to retain an existing one. But investing in your team can also improve culture, morale, and a sense of belonging during a challenging time.
Investing in your employees could mean a literal investment in the form of salary increases or more comprehensive benefits. Especially in light of the pandemic, leading companies such as Pinterest are expanding their benefits and policies around paid, family, and sick leave.
But investing in your employees can also come in the form of education and training opportunities. When people feel like they are learning at work, they are more likely to feel engaged and motivated. Giving your employees both a sense of upward mobility and a path to grow within your company improves the likelihood that they will stay. Further, it fosters a healthy company culture and creates a sense of belonging–both of which are more central to employees than ever.
Embrace Pandemic-Era Changes
As Omicron surges, returning to the office may not be as simple as originally anticipated. More than 50% of employers say they will continue to promote remote working conditions into 2022. To remain competitive in the current hiring market, consider a flexible stance on positions that can be performed either in-office or remotely.
Prepare to Play the Long Game
With more open jobs than active applicants, companies may need to manage their expectations on hiring timelines. Positions will take longer to fill than in previous years. If your hiring process is taking longer than normal, consider where you can utilize other resources to bring in better candidates.
Enlist a Staffing Partner for Extra Support
Partnering with a staffing agency can make it easier for companies to find qualified talent in less time. A staffing agency such as Eastridge gives you access to a larger pool of qualified, ready-to-work candidates.
In January 2022, we added more than 22,000 new candidates to our internal database–talented workers that your company could be taking advantage of to stay ahead in the current market. By the end of February, we're trending to add the same amount–meaning nearly 50,000 new candidates have been added to our pipeline since the start of 2022.
Likewise, your company also gains a team of professional recruiters dedicated to filling your open positions. The right staffing agencies specialize in not only filling your open roles in less time but in matching compatible candidates to your company–whether you need to ramp up for short-term projects or find a new executive who's invested for the long haul.


Find the Right Staffing Partner to Beat the Talent Shortage
You don't have to source talented candidates all on your own. If you are struggling to hire in the current labor market, contact us to learn more about how we can help you grow your workforce.
Download our full research article for more information about how the current labor market is impacting employers and job applicants.