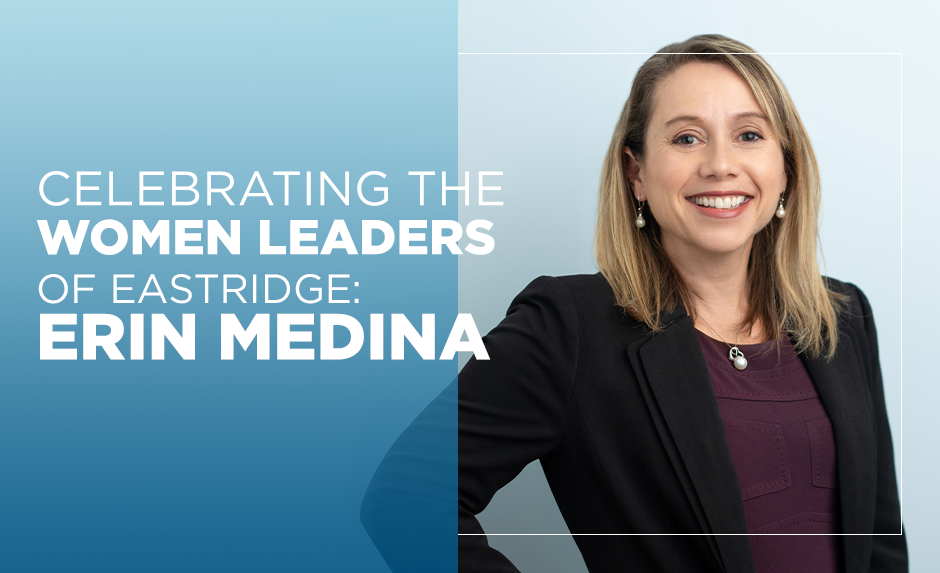 ▾
Celebrating the Women Leaders of Eastridge: Erin Medina
Eastridge Blog posted by Molly Delattre on March 13, 2019
This March as we celebrate Women's History Month, we'd like to recognize Eastridge's women leaders who deliver their best to Eastridge every day, year over year. Throughout this month, get to know some of our most remarkable women leaders for their lessons learned and wins achieved. 
 
Q: What year did you join Eastridge and what is your current position?
A: I joined Eastridge in 2016 and I am the Chief Legal Officer.
 
Q: What do you consider your biggest accomplishment while at Eastridge?
A: Restructuring the legal department to be more efficient, effective, cost-conscious and customer friendly while maintaining and nourishing open and positive communications. This has helped build strong relationships based on confidence and trust both within our department and also between the legal team and our internal and external clients.
 
Q: What advice would you give young women just starting their career?
A: Be persistent and steadfast, work hard and speak up when you have something to say.  Also, one of my favorite quotes is "the only limitations that you have are the ones that you impose on yourself."
Q: How did you get where you are today, and who/what helped you along the way?
A: Hard work, dedication and persistence - there are no shortcuts. My path was definitely not a straight one, but I did pursue what was important to me with passion and precision. In a roundabout way, I got to where I wanted to be and continue to work towards where I want to go.  I have always tried to surround myself with strong women (friends, family, colleagues, professors, etc.). Not necessarily "mentors" but women in my life that I admired and that inspired me to work hard and to achieve my goals whatever they may be.
Subscribe Today!
With the Eastridge Blog, you can stay up-to-date on hiring trends, industry insights, today's workforce challenges, what's happening at Eastridge and more. To receive our experts' thought leadership and news, subscribe today.
Thanks, we'll be in touch!
© 2022 Eastridge Workforce Solutions