June 2, 2021
5 Ways to Overcome the MedTech Talent Shortage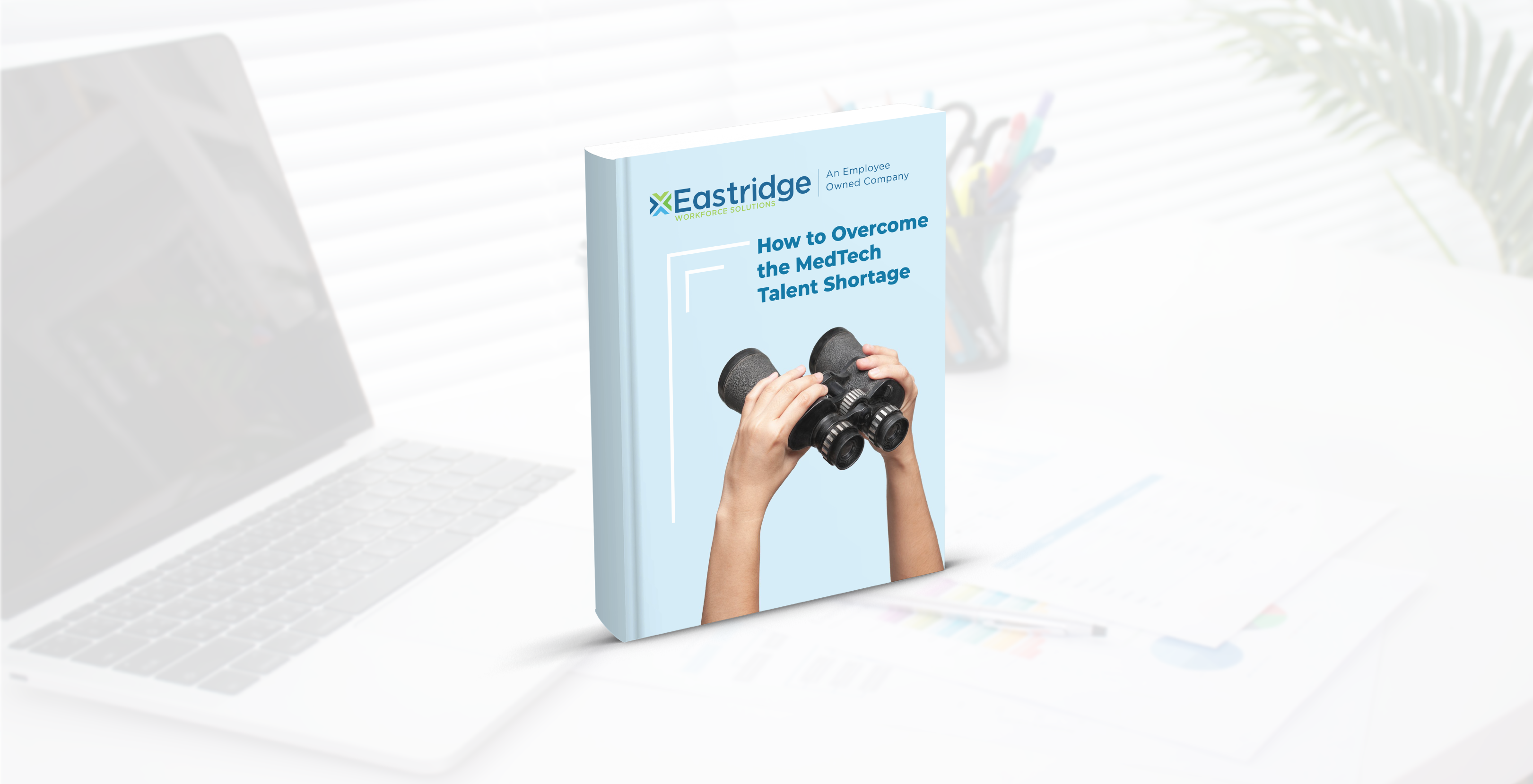 Although the previous year presented numerous challenges for hiring qualified candidates, MedTech had experienced talent shortages long before the pandemic hit.
As a reaction to COVID-19, MedTech companies sprung into action, creating innovative devices and diagnostic tests to treat large populations, resulting in an upsurge in the need for talent.
According to MedTech Intelligence, the market for medical devices is expected to top $500 billion globally this year. However, despite growing hiring demands, the number of available candidates remains stagnant. Other challenges like limited access to resources and bandwidth constraints also impact the recruiting process and management.
In order to remain competitive, new strategies must be implemented to retain valuable employees and attract new talent. For hiring managers, understanding the effects of turnover and retention is critical. Additionally, adopting smart strategies for attracting talent will also position organizations for long-term success. Let's take a look at a few ways hiring managers can overcome MedTech talent shortage challenges.
Competitive Compensation
Modern MedTech companies are reeling in candidates through increased wages and robust compensation packages, so it's important to understand your competition, industry standards, and the candidate pool.
Offering higher pay and lucrative compensation packages differentiates your organization, meeting or exceeding market demand. Whether it's flexible PTO, a relocation stipend, bonuses, or variable shifts, providing extra incentives entices candidates to choose your company.
Training and Upskilling
Leveraging training programs for candidates is pertinent to a long-term retention strategy. To find candidates with the optimal skill levels, identify the primary requirements you're seeking and leverage training and skills assessments to attract and identify top talent.
By proactively addressing imbalance through training, you're better able to bridge the gap between high-potential candidates and the critical requirements for the role.
Future Enrichment
Once employees have been onboarded, having frequent conversations around career pathing will keep employees engaged and excited about growth within your company.
Make it a priority to invest in employee professional development. From tuition reimbursement to training compensation, investing in your employees now establishes your organization for a rewarding future while increasing retention.
Strategic Partnerships
Building a strategic relationship with a staffing partner offers a reliable process for hiring quality candidates in a timely manner. These partnerships can help your organization:
Develop business solutions
Gain access to qualified candidates
Obtain valuable market knowledge
Reduce costs and expenditures
Access key in-demand skills
Eastridge's Valuable Evaluation
Our GATE program provides an objective evaluation of potential candidates to determine aptitude and skills needed to succeed in a role. GATE provides a vetted talent pool to fill positions on-demand and can be administered virtually to accommodate screening and training for on-site and remote workers. These programs are tailored around the job's specific needs and company culture.
Final Thoughts
Eastridge has exclusive access to an online supply and demand portal to provide real-time information to clients regarding market conditions. Remaining aware of pay rates, incentive programs, and companies hiring for similar roles can help you identify the talent you need while staying competitive.
---
To learn more, check out our eBook where we cover more helpful resources for your hiring strategies.