February 1, 2022
Vote for Eastridge's Corrie Judge to Win OnCon's Top 100 COO Award!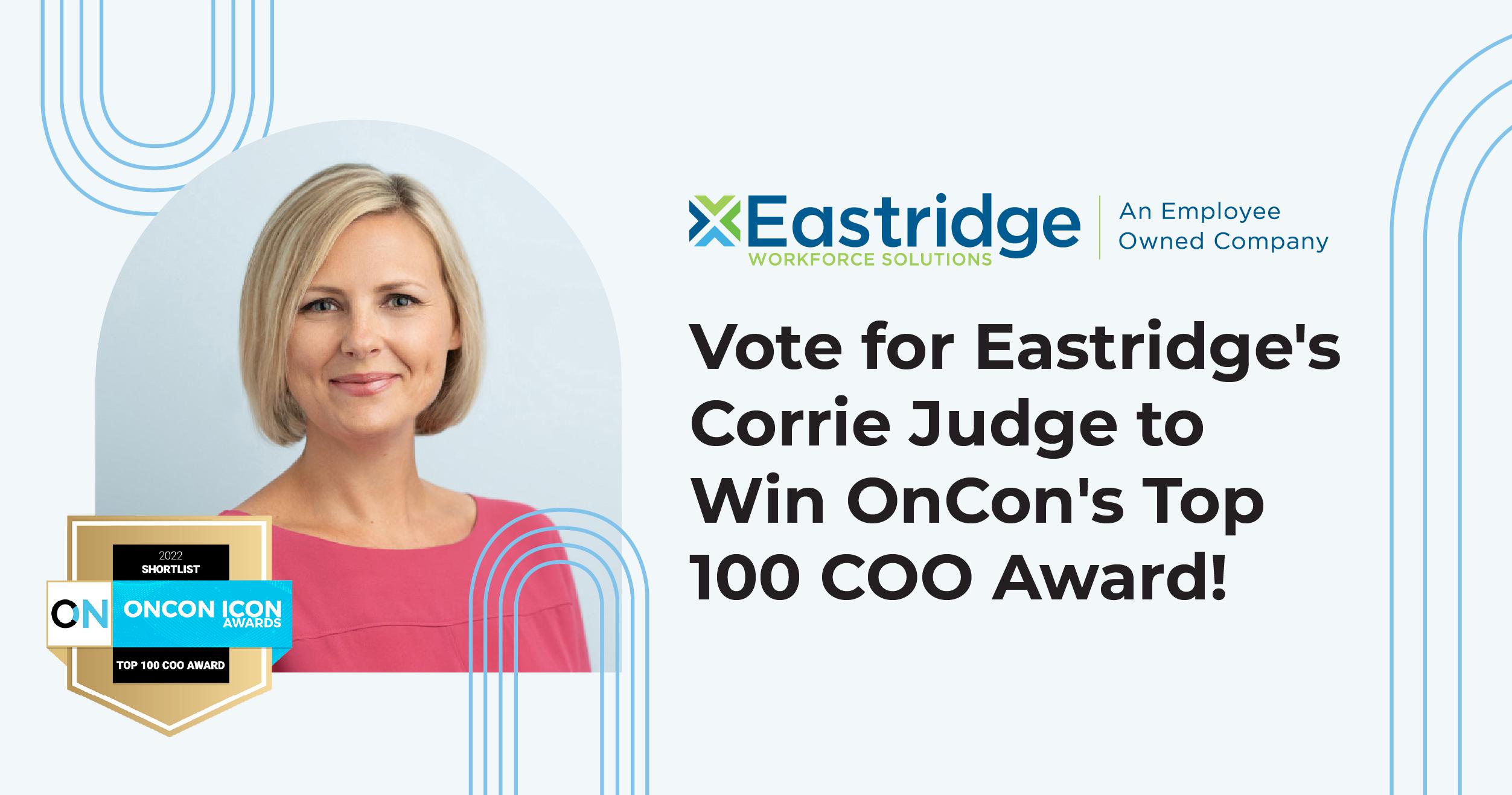 Update on May 13, 2022: We are thrilled to announce that Corrie Judge has been awarded a Top 50 COO Award at the 2022 OnCon Icon Awards. Please join us in celebrating this exciting win for her!
///
Eastridge COO Corrie Judge has been nominated as a Top 100 COO in the 2022 OnCon Icon Awards. Voting for the award closes on February 15, so click here to vote while you still have time. Continue reading to get to know more about Corrie and the importance of this nomination!
About Corrie Judge, COO
Corrie Judge has been Eastridge's Chief Operating Officer (COO) since 2020. Prior to her current role, she served as Director of Operations of Eastridge's corporate centralized service center.
Corrie has more than 14 years of service at Eastridge and 20 years of total professional experience in the recruitment and staffing industry. Prior to working in staffing, Corrie was a Peace Corps Volunteer teaching English in a remote area of China.
Corrie says, "I've been fortunate in my career with Eastridge to have colleagues and mentors who provide me with exposure to new and different areas of our business. They have brought me up into different roles by allowing me to explore areas I was interested in. It's that challenge of new initiatives and the collaboration with different Eastridge teams that gets me excited to come to work every day. I hope to provide that same level of opportunity and variety for my team and appreciate them putting up with me pulling them into different projects on a weekly basis.
I value responsiveness and clarity of communication and strive to lead with straightforward direction and clear intentions. As Eastridge has evolved over the last two years after becoming an employee-owned company, we have highlighted transparency, inclusion, and thoughtful decision-making in the workplace. This is centered on communication and trust. At the end of the day, Eastridge is about people and a unique focus on building a collaborative environment to best serve our clients, employees, and communities.
Outside of the office, I'm celebrating 15 years of marriage this year, and am mom to two boys who spend their time updating me on all things Nintendo, Magic: The Gathering, and speed-cubing. I love to cook and try new restaurants, but only function if I have my daily large cold brew coffee in hand. I'm a big reader and invite all recommendations to expand what I naturally gravitate towards in the bookstore."
What does this nomination mean?
Every year, OnConferences holds a variety of awards events for professionals across industries; for example, legal, marketing, technology, and talent acquisition, among others. It also gives peer-voted awards for leadership roles like Chief Operating Officer (COO).
From a list of 200 nominees, 100 top finalists will be selected based on peer observation of the following traits: making a strong impact on their organization, influencing their professional community through thought leadership, innovating in their role and/or career, and exhibiting exceptional leadership.
By being nominated for this award, Corrie joins a number of Eastridge leaders whose expertise has been celebrated by outside organizations. Most recently, our CEO Seth Stein was named in the SD500 list of Most Influential People in San Diego.
How do I vote?
You can vote for Corrie by clicking the link and selecting her name from the list of nominees. Cast your vote before voting closes on February 15.
About Eastridge
Established in 1972, Eastridge is an employee-owned organization founded on the mission to provide opportunity and enrichment through work. Through a core belief in servant leadership and fostering growth, we have remained dedicated to our original mission while innovating technology and services to help our clients thrive.
If you're interested in joining the team, we invite you to browse our open roles. You can also follow us on LinkedIn, Twitter, and Facebook to stay up-to-date with all things Eastridge.