July 20, 2023
Staffing Industry Analysts Names Eastridge to its 2023 Largest Staffing Firms in the US List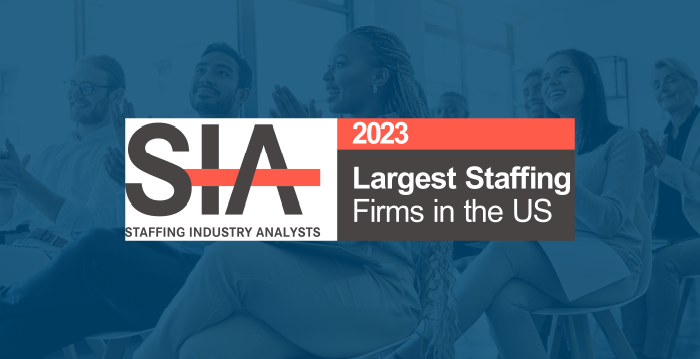 Staffing Industry Analysts (SIA) has again recognized Eastridge Workforce Solutions as one of the largest staffing firms in the United States. The SIA list includes 251 staffing firms with $100 million or more in U.S. revenue in 2022, according to SIA's press release.
"While the industry overall is quite fragmented, with more than 20,000 staffing firms in the U.S., the companies listed account for over three quarters of U.S. staffing market revenue," said Barry Asin, SIA President. "Additionally, this report highlights the growth of the industry, as the number of firms over $100 million has grown from just 98 in 2010 to 225 in 2021 and now to more than 250 last year."
Building on its 50+ years in business, Eastridge has expanded rapidly in recent years by adding new branch locations, additional service lines, and has seen growth by establishing onsite partnerships at client facilities, supported by remote recruiting through our international sourcing center. Leveraging expertise in professional and industrial recruiting, the Eastridge team has worked with customers nationwide to find talent in both large volumes and for targeted, specialty roles. Leveraging expertise in a wide range of recruiting arenas including advanced manufacturing, logistics, medtech, legal, life sciences, human resources, accounting and finance, engineering, IT, and more, the Eastridge team has cultivated opportunities in tandem with its growing list of clients to become one of the leading staffing firms in the United States.
"Eastridge is honored to be included in SIA's prestigious Largest US Staffing Firms list once again," said Seth Stein, Eastridge CEO. "Our award-winning service, exceptional candidate quality, and focused expertise in the industries we serve have been key to Eastridge's decades of successful client partnerships. I'm truly thankful for our clients and candidates who provide us the opportunity to serve them and I'm extremely proud of the entire Eastridge team for the hard work and dedication reflected in again ranking in this year's SIA list."
More about Eastridge
Eastridge partners with industry-leading companies to efficiently match them with talented, skilled people essential to long-term business growth. Award-winning service, high standards in quality, and focused expertise in key industries have been essential to the company's 50+ years of success. Whether targeting key roles, seeking high-volume employee engagements or solving a complex array of staffing challenges, Eastridge is the partner to trust for the talent you need.
With the industry's most comprehensive suite of services, Eastridge partnerships extend from sourcing and recruiting talent to delivering sophisticated workforce solutions. In addition to recruiting and staffing, we serve as the global employer of record for companies worldwide and deliver contingent staffing MSP and VMS programs that manage complex workforce dynamics. Our solutions are backed with proprietary technology adaptable to the needs of the clients we serve.
Established in 1972, Eastridge Workforce Solutions is an employee-owned provider of full-service talent acquisition and management solutions for companies globally. Eastridge provides a full range of solutions solving today's workforce challenges. In addition to professional / technical and industrial recruiting we provide workforce management solutions such as employer of record, recruitment process outsourcing, as well as master service provider and vendor management systems programs. We back our services with the Eastridge Cloud, a proprietary technology that streamlines every step of workforce management. Eastridge proudly helps over 20,000 associates find jobs annually across the globe.