February 7, 2023
Eastridge Wins ClearlyRated's 2023 Best of Staffing Client Award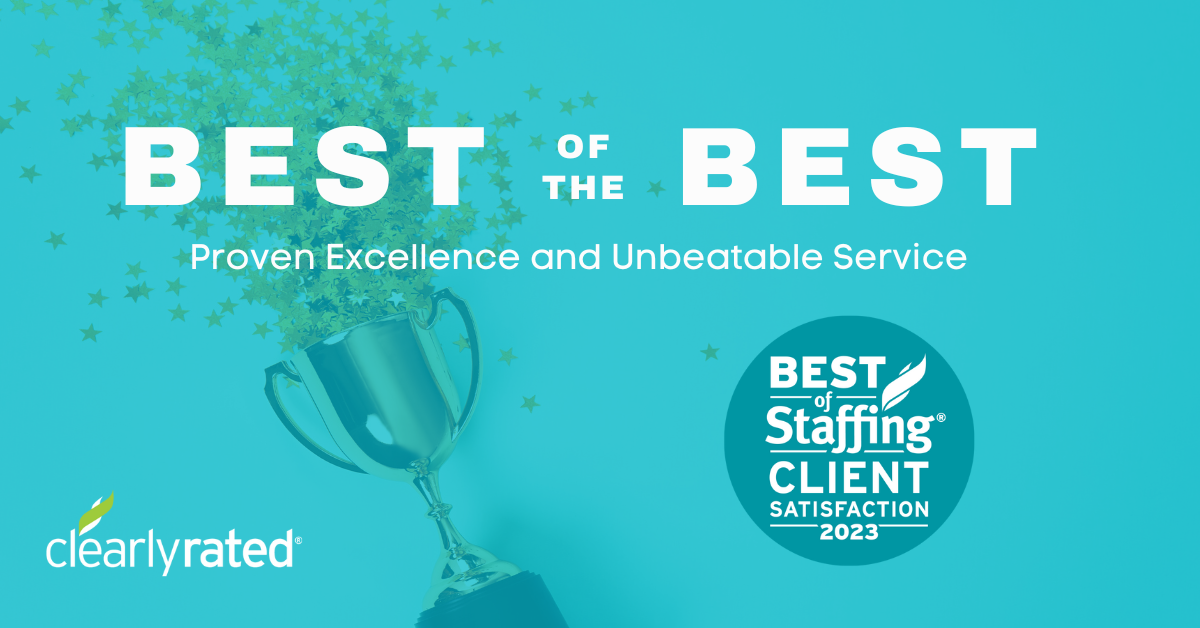 Clients of winning agencies are more than 70% more likely to be completely satisfied
Eastridge Workforce Solutions is pleased to announce that it has won the Best of Staffing Client Award for providing superior service to clients. Presented in partnership with sponsors Indeed and Talent.com, ClearlyRated's Best of Staffing® Award winners have proven to be industry leaders in service quality, based entirely on ratings provided by their clients. According to ClearlyRated, on average, clients of winning agencies are 70% more likely to be completely satisfied with the services provided compared to those working with non-winning agencies.
"This award is a reflection of the commitment and work ethic of our entire group of employee-owners. Delivering our best for our client companies and providing amazing opportunities for the people we recruit and employ is paramount," said Seth Stein, CEO at Eastridge. "Our tailored programs are designed to meet clients' specific industry challenges and are supported with innovative technology and a team of talented, driven employee-owners. It's a successful formula built on our 50+ years of experience and one we will continue to deliver in partnership with our clients moving forward. We are truly thankful to all of our clients who recognized our efforts."
"I am pleased to introduce the 2023 Best of Staffing winners alongside their validated service ratings on ClearlyRated.com," said ClearlyRated's CEO, Eric Gregg. "These firms have demonstrated a remarkable commitment to delivering amazing experiences, despite another year of upheaval and macroeconomic uncertainty. Hats off to these service leaders - it's truly an honor to recognize and celebrate their achievements."
About ClearlyRated
Rooted in satisfaction research for professional service firms, ClearlyRated utilizes a Net Promoter® Score survey program to help professional service firms measure their service experience, build online reputation, and differentiate on service quality. Learn more at https://www.clearlyrated.com/solutions/.
About Best of Staffing
ClearlyRated's Best of Staffing® Award is the only award in the U.S. and Canada that recognizes staffing agencies that have proven superior service quality based entirely on ratings provided by their clients, placed talent, and internal employees. Award winners are showcased by city and area of expertise on ClearlyRated.com—an online business directory that helps buyers of professional services find service leaders and vet prospective firms with the help of validated client ratings and testimonials.