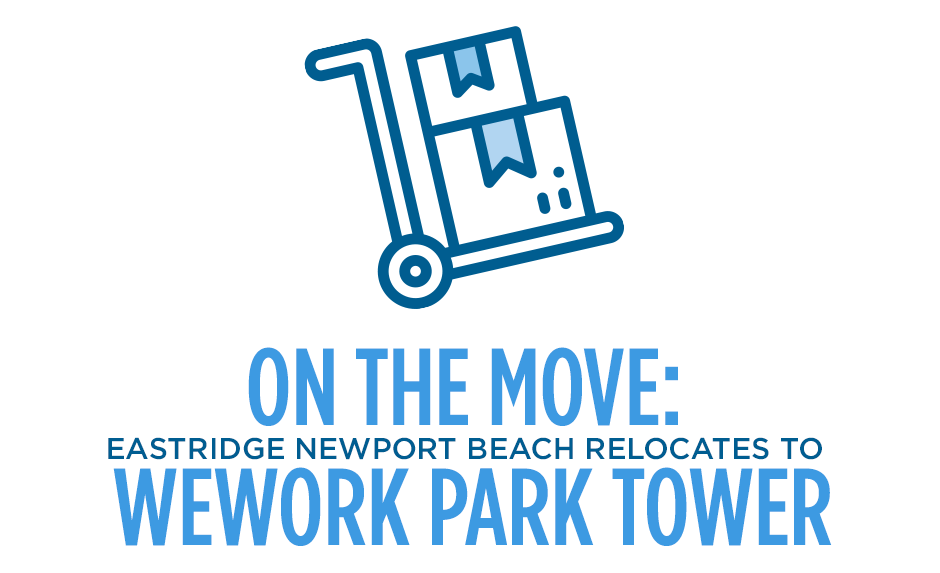 ▾
On the Move: Eastridge Newport Beach Relocates to WeWork Park Tower
Eastridge Blog posted by Molly Delattre on June 19, 2019
Eastridge's Newport Beach team has recently made an exciting move. In the spirit of innovation, our team has officially relocated from a traditional, long-held office space to WeWork Park Tower!
What is WeWork?
Founded in 2010, WeWork has grown from one humble co-working space in Brooklyn to nearly 100 locations across 12 countries. From startups to global companies like Eastridge, WeWork provides aesthetically beautiful and amenity-rich office spaces in strategically placed locations.
Looking Forward
The entrepreneurial spirit of WeWork's mission heavily resonates with the Eastridge way of life and culture of work.
JC Carrion, Executive Vice President of Workforce Recruitment, notes "Our own suite set up at WeWork allows our employees to work closely with one another, creating a  stronger experience of collaboration. At the same time, the different common areas outside of our suite allow our employees to move around, huddle with their fellow team members and take advantage of the wonderful amenities. The team seems to be enjoying it for sure!"
About Eastridge Workforce Solutions
Since 1972, Eastridge Workforce Solutions has provided full-service talent acquisition and management solutions for Fortune 500 companies across North America. Ranked as a top professional recruiting firm by Forbes and in the top 1% of firms by Staffing Industry Analysts, we are proud to help over 20,000 associates find jobs across all major industries every single year. With strategic contingent workforce management programs and comprehensive staffing solutions powered by our proprietary technology platform, Eastridge Cloud™, we make it easy for our clients to attract and manage a skilled workforce.
Subscribe Today!
With the Eastridge Blog, you can stay up-to-date on hiring trends, industry insights, today's workforce challenges, what's happening at Eastridge and more. To receive our experts' thought leadership and news, subscribe today.
Thanks, we'll be in touch!
© 2022 Eastridge Workforce Solutions